Summer Reads is back in Tauranga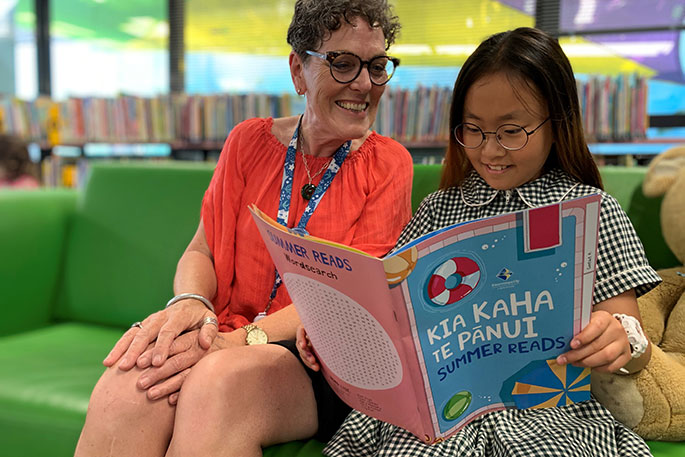 Summer is here, and that means a long break from schoolwork.
"Kids will happily be swapping school sandals for sandcastles, and mathematics for Minecraft; but thanks to Tauranga City Libraries, parents don't need to worry about their children returning to school in February with a lower reading level than when they left," says a Tauranga City Council spokesperson.
"Our free reading challenge Kia Kaha Te Pānui – Summer Reads underwent a makeover last summer, after sixteen successful years saw the need to grow in scope and accessibility. Widening to include craft activities, competitions, and virtually unlimited spaces, the programme saw almost 1500 booklets taken over six weeks.
"Families loved that younger siblings could also join in with fun activities at the libraries, while school-aged children (5-10) were motivated to read to earn stickers, prizes, and an invite to the legendary finale party at Memorial Park."
During the programme, children visit the library and share their reading experiences with the friendly staff.
Parents often reported not only a maintained or increased reading level, but also an increase in general confidence, says Lauren Jones, Children and Teens' Programme Specialist.
"We often find that children can be shy the first time they talk with us about the book they have read. But by the third visit, they are eager to tell us the entire plot, who their favourite characters were and how their holiday is going. It's a great way to get to know our library users and for them to get comfortable in a library environment."
Teens don't miss out either. Kia Kaha Te Pānui – Teen Reads is designed specifically for those aged 11–18 and includes a short-film making competition and "teens only" pizza party.
This year's jam-packed activity booklets for both age groups will be available to collect from all Tauranga City Libraries from Wednesday, December 16, with participants having until Sunday 24 January to complete the programme.
More information can be found at: www.library.tauranga.govt.nz
More on SunLive...