Lisa Carrington banks a golden treble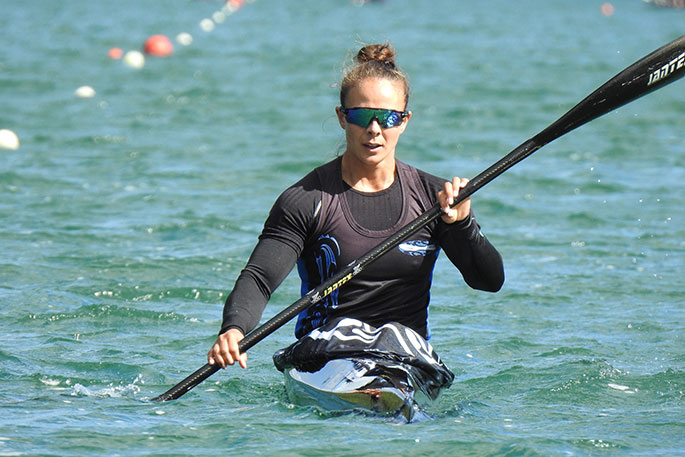 Lisa Carrington climaxed the Blue Lake 2 regatta by securing three further titles to add to the hat-trick of gold medals she snared on day one on a thrilling day of racing in tricky conditions on Lake Tikitapu.
The 31-year-old paddler struck gold in the K1, K2 and K4 500m, although in a clear illustration of the rich seam of talent New Zealand currently boasts within female paddling, she needed to dig deep into her resources to finish the weekend unbeaten.
The open women's K1 500m was always likely to provide the highlight of the weekend and it did not disappoint as the 12-time global champion (Olympic and World Championship gold medals) prevailed in a world-class race.
Alicia Hoskin from Poverty Bay made the quickest start, although before halfway Lisa had seized control of the race under pressure from Caitlin Ryan on her inside and Aimee Fisher on her outside.
Both Caitlin, a former world best time holder for the distance and Aimee, a former World U23 K1 500m champion, mounted a strong challenge but Lisa dug deep to stop the clock in 1:47:27.
Some 0.67 further back Caitlin and Aimee took a share of second spot in a world-class exhibition of paddling by all three podium dwellers.
Lisa's gold rush then continued in the K2 500m as she and crew-mate Alicia Hoskin took a thrilling final by just 0.04 from Kayla Imrie and Caitlin Ryan.
In what always looked like an evenly matched battle, more than matched up to its pre-race billing as Lisa and Alicia delivered by edging a titanic showdown in a time of 1:40.94.
A third CRNZ crew (Teneale Hatton and Danielle Watson) secured bronze in 1:48.03.
Lisa competing alongside a powerhouse CRNZ crew also containing Caitlin, Alicia and Teneale stormed to a comprehensive win by more than seven-and-a-half seconds in the K4 500m to round out a perfect six from six record over the weekend.
"The K1 500m was a tough race and it hurt a lot but the result shows the strength of NZ kayaking at the moment, which is really cool. You can't have a bad day because there are so many quality girls," says Lisa.
"We have eight paddlers in the women's squad, we are all on the same program and it is great we are all performing. Year on year we just keep on getting better.
"It was good to be able to perform well at this time of the season. What this weekend shows is the fitness and strength is there, it is just that fine-tuning that is needed to perform at a peak for the big international competitions."
Max Brown bounced back from a bout of food poisoning on Friday to claim the bragging rights with a compelling victory over Quaid Thompson from Poverty Bay in the open men's K1 1000m.
The Whanganui paddler trailed Quaid, a two-time World Championships K1 1000m representative, at halfway but producing a patient paddle he finished powerfully in the latter stages to deliver a narrow win by just 0.16, recording 3.37.02.
Kurtis Imrie edged a tight race for bronze – less than a second separated third to seventh – grabbing the final spot on the podium in 3:42.13.
For Max, the 2019 World Cup K2 1000m A finalist, it was a sweet victory, particularly after a far from ideal build up to the competition in Rotorua.
"On Friday I ate some Sushi which was a bit off. I felt a bit rough, so I decided not to enter the K1 200m on Saturday morning. I came back refuelled for the K1 1000m heats last night. I went pretty good - Max was the fastest qualifier - but I felt exhausted at the end," says Max.
"The final was a battle with all the boys, everyone in the men's division is really stepping up their game so you need to be on it at 100 per cent. I knew Quaid would start quickly, but I was in touch the whole race and I managed to get my nose ahead of him at the end.
"It was a good race in tricky conditions and I did what felt like a couple of loops around the lake not quite being able to hold a straight line. It was nice to win what was only my third ever K1! I've had quite a bit of success in team boats, but it is nice to score a result in K1."
Max had to settle for silver alongside regular partner Kurtis Imrie in the K2 1000m as fellow CRNZ paddlers Ben Duffy from Arawa and Hamish Legarth from Hawke's Bay claimed a decisive win.
The Ben and Hamish combination has regular gleaned good results and yet again the pairing were unstoppable; winning in 3:15.95 – 2.69 secs clear of Max and Kurtis.
Fred Teear and Steven Armstrong (Arawa) profited from a late water dunking from Zach Ferkins and Ashton Reiser (CRNZ) to grab bronze in 3:21.42.
Ashton and Zach then teamed up with Ben and Hamish to claim a comfortable win the open men's K4 500m final. The CRNZ crew stopped the clock in 1:25.56 to clinch top spot from Karapiro Kayak Racing Club.
To check out all the results go to www.liveresults.co.nz or download the Canoe Racing NZ app.
More on SunLive...