Port of Tauranga's container conundrum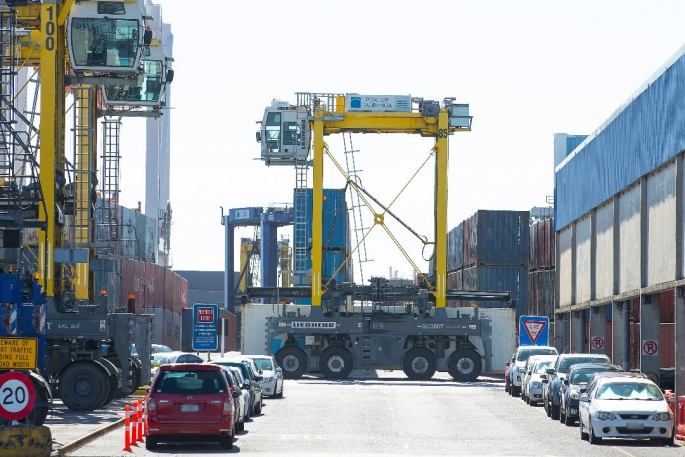 A local truck driver is frustrated with wait times for loading and unloading containers at the Port of Tauranga.
Casual truck driver Eric Crabbe takes containers from the Mount Maunganui industrial area to the Tauranga container terminal at Sulphur Point daily and says some days it can take more than an hour of waiting inside the port to load or unload a container.
The day Eric spoke to The Weekend Sun it was one hour and 40 minutes from the time he checked into the gate and left again for one trip to the receiving and delivery area.
On a normal day Eric is disappointed if he can't deliver 14 containers in a day, but on that day he only turned around seven.
At the moment days like this are happening two to three times a week, he says.
The delays cost companies money and for those travelling from outside Tauranga the wait can cause stress for drivers who need to stay within their logbook constraints which is a health and safety issue, says Eric.
He believes the long wait times are caused by not having enough straddle carriers or operators available to shift the containers around the terminal. On the day he spoke to The Weekend Sun he could see 10 sitting idle.
This is something he discussed with the port about 10 years ago but he feels the problem has been getting worse in the last two years.
In April 2019, the port introduced a vehicle booking system to help spread out truck traffic and avoid heavy peaks but that also depends on truck drivers showing up on time, says a Port of Tauranga spokeswoman.
Eric says the wait times in the receiving and delivery area can prevent drivers from arriving at the booked time, then they have to wait again until their next time slot.
Port data shows average truck turnaround times of under 25 minutes from April 2019 to September 2020 and the average time spiked to just under 30 minutes in October, says the spokeswoman.
Eric says if this data is spread over 24 hours then it doesn't take into account the wait times during peak hours.
The spokeswoman says large volumes of imported containers have been diverted to Tauranga because Ports of Auckland is only operating at a third of its crane capacity and ships are waiting at anchor one to two weeks to berth.
She says this has coincided with the port's peak export season and resulted in congestion across operations.
"It's been very frustrating for all involved but we've done our best to help importers and exporters move the unexpected cargo volumes."
With the storage yard being so full a straddle carrier might need to move a few containers to get to the one being picked up, she says.
The port has demolished a cargo shed to build a new truck exchange which should be open in early January.
Eric says the response on the ground to this was they don't need more parking spaces but more straddles and operators.
He says port staff are great to work with and he doesn't want to take away from the port's reputation but wants action on the wait times.
More on SunLive...