Sailing away on Tauranga Harbour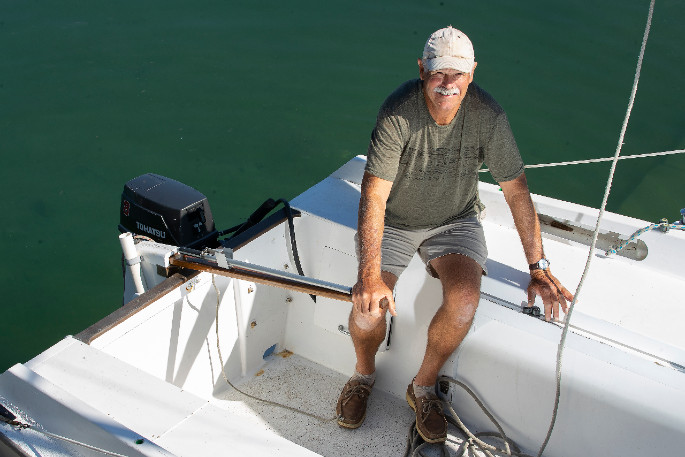 There's nothing like a day out on the water, wind whipping past your ears, the sun on your face and salt on your lips.
Bevan Grant of the Tauranga trailer yacht cruising group is no stranger to this feeling and says Tauranga harbour is an incredible place for sailing.
Sailing is a fantastic sport and the harbour is perfect for trailer yachts because Matakana Island provides shelter and there are many bays to explore all the way up to the Bowentown harbour, he says.
A favourite spot for the group is a little beach dubbed Pohutukawa Bay where they sit on the white sand in the shade of pohutukawas with a view of Pahoia.
"This harbour is really something special and it suits the trailer yachts."
Trailer yachts need as little as 23cm of water beneath them because they can lift their centre board and rudder so sailors can reach almost any spot in the harbour, says Bevan.
He says a lot of keelers can't go past Motuhoa Island or Omokoroa in the harbour because of the shallow water.
The group of sailors have been taking their yachts out for about 20 years and they're keen for more people to join them.
They are holding an open day on December 19 at Sulphur Point Marina from 9am where people can take their trailer yacht and get advice or help on setting up their boat and see some in action.
For those keen to take their yacht out the group will be sailing to Omokoroa later in the morning.
Bevan says it is a chance for people to get their yachts out on the water if they've been sitting idle or if people are interested in trailer yacht sailing they can come along and learn something.
The group sail most weekends throughout summer and do both day trips and overnight stays at Tanners Point, Athenree or Hunters Creek.
Trailer yachts vary in length from five to eight metres and can usually sleep and cater for up to four people so are great family boats. Costs start from as low as $3000 for a yacht, motor and trailer, says Bevan.
The open day is at Sulphur Point Marina from 9am on December 19.
For more information call Bevan on: 07 576 8885.
More on SunLive...