Anstiss moves in front at The Mount Open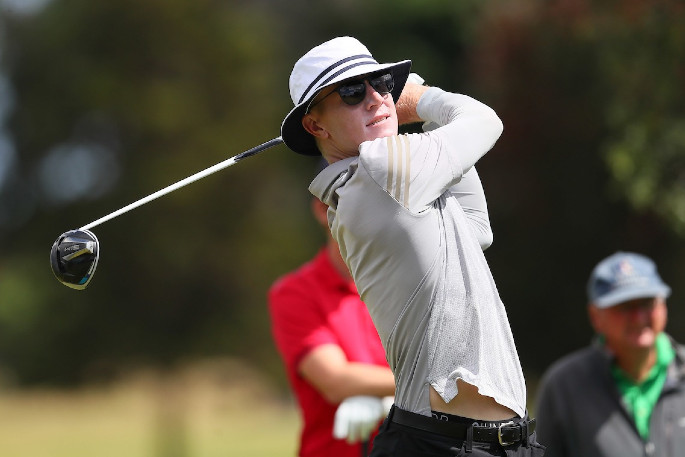 James Anstiss has poked his nose in front in blustery conditions on moving day at the Christies Floorings Mount Open held at Mount Maunganui Golf Club.
He sits a shot in front of Daniel Hillier after rounds of 68, 64, and 69 to finish at 15-under for the tournament.
The two-time Jennian Homes Charles Tour champion has the opportunity to join an elite group of players with three wins on the tour. He says he's looking forward to going head-to-head with Hillier tomorrow, and will call on his learnings from his first two wins as he tries to get over the line.
"Just the belief that I can get it done whether it's with the lead or coming from behind. Just having that self-belief that I can win should put me in good stead for tomorrow," says Anstiss.
"It'd be awesome to get it done. I haven't had a good run in the last three of these events and I haven't put myself in contention to win. So, to put in some hard work and get my game back to wear it needs to be is great and to be in the position to win again is cool."
He'll need some of the form shown throughout the first three days of the tournament.
He says his ball-striking has been the key this week, and the setup around Mt Maunganui Golf Club suits his eye.
Anstiss says he was happy with his work out there today.
"It was a good day out there. I hit it very similar to yesterday and I think it windier today to be fair. I didn't quite hole as many putts with that wind but I'm happy to walk of the 18th shooting three-under.
"I pretty much hit driver everywhere again today and I'm just going to keep doing that tomorrow. Dan's playing really well so I can't take the foot off the pedal. I'll have a good battle on my hands tomorrow," says Anstiss.
Hillier will look to get off to a fast start again tomorrow as he tries to catch Anstiss.
He carded a third round of two-under 70 following consecutive rounds of six-under. He says he's happy to finish under par after struggling midway through his round.
"I'm pretty happy with the score in the end especially in that breeze. Putting was the thing that got me today, I missed a few short ones but managed to grind it out and get a couple toward the end," says Hillier.
"I got off to a good start which helped. To be able to come back like I did on the final few holes and keep myself in the event was very pleasing and I'm looking forward to getting into it again tomorrow."
Hillier has more than just the tournament on the line tomorrow. He has the opportunity to finish off the year in style with the season long Jennian Homes Trophy and just needs to finish in second place to secure the trophy.
Only James Hydes and Luke Toomey can spoil Hillier's part with a win, and Hillier will still need to finish worse than second if Hydes was to lift the trophy tomorrow, or worse than 51st if Toomey was to win.
He says the Jennian Homes Trophy won't be on his mind tomorrow.
"I've just got to keep everything the same as I have the last three days. I've been pretty aggressive off the tee; I didn't hit it quite as well today but got away with a few. I just have to stick to the game plan, and I have can execute that I should be up near the top of the leaderboard but otherwise it will have been a good week regardless," says Hillier.
As part of the event, the Grant Clements trophy is on the line for the lowest male and female amateurs.
Kit Bittle currently leads the men's standings at 12-under with Anna Am leading the females at one-over.
Play gets underway from 8.30am tomorrow morning.
For live scores, click HERE
Scores after round 3 - Saturday December 12 2020
201 James Anstiss (PGA New Zealand) 68 64 69
202 Daniel Hillier (PGA New Zealand) 66 66 70
204 Kit Bittle (Gulf Harbour Country Club) 67 66 71
206 Zachary May (Russley) 65 72 69
208 Jimmy Zheng (Howick) 68 69 71
209 Luke Brown (PGA New Zealand) 71 69 69, Fraser MacLachlan (PGA New Zealand) 70 69 70, James Hydes (Gulf Harbour Country Club) 70 69 70, Dongwoo Kang (PGA New Zealand) 71 68 70, Chang Gi Lee (PGA New Zealand) 67 70 72, Tae Koh (Windross Farm Golf Course) 67 69 73
210 Luke Toomey (PGA New Zealand) 74 68 68, Kieran Muir (Omokoroa) 72 69 69
211 Kazuma Kobori (Rangiora) 70 70 71, Mako Thompson (Maraenui) 71 68 72, Gareth Paddison (PGA New Zealand) 70 69 72, Munchin Keh (P) 69 70 72, Jordan Loof (PGA New Zealand) 70 67 74
212 Woonchul Na (PGA New Zealand) 70 75 67, Cameron Jones (PGA New Zealand) 72 71 69, Mark Hutson (PGA New Zealand) 65 76 71, Jerry (Xiangming) Ren (P, Gulf Harbour Country Club) 72 67 73, Josh Geary (PGA New Zealand) 69 70 73, Will O'Connor (Royal Wellington) 72 65 75
213 Taylor Gill (PGA New Zealand) 69 74 70, Sung Jin Yeo (PGA New Zealand) 69 69 75
214 Michael Hendry (PGA New Zealand) 68 75 71, Jordan Woodall (Cambridge) 69 72 73, Jared Edwards (Royal Auckland and Grange) 68 69 77
215 Jared Pender (Te Puke) 72 74 69, Shaun Campbell (Omanu) 73 72 70, Jaeseung Na (Whitford Park) 67 74 74, Hiroki Miya (Russley) 69 71 75
216 Sam Vincent (Riverside) 73 72 71, Trevor Marshall (PGA New Zealand) 72 71 73, Jayden Ford (Judgeford) 72 71 73, Robby Turnbull (Remuera) 70 73 73
217 Anna An (Muriwai) 75 72 70, Lachie McDonald (Marton) 73 71 73, Mason Lee (PGA New Zealand) 70 73 74, Mark Brown (PGA New Zealand) 71 70 76
218 Johnny Tynan (Titirangi) 71 75 72, Matthew Morris (Royal Wellington) 71 75 72, Sam Reese (Gulf Harbour Country Club) 72 73 73, Troy Ropiha (PGA New Zealand) 69 75 74
219 Cosmo Graham (Hastings) 71 76 72, Momoka Kobori (Rangiora) 72 72 75, Ryan Rooney (Feilding) 68 76 75, Wenyung Keh (P) 72 71 76
220 Sam An (Titirangi) 69 78 73, Rhys Thomas (Futures Waikato) 72 73 75, Stephen Liu (Whitford Park) 71 74 75, Fiona Xu (Titirangi) 71 74 75
221 Mitchell Kale (Tauranga) 74 73 74, Cameron Harlock (Royal Auckland and Grange) 72 74 75, Joshua Bai (Akarana) 76 70 75
224 Kevin Koong (Muriwai) 72 75 77, Thomas Woods (Miramar) 74 73 77
225 James Tauariki (Futures Geyserland) 75 72 78, James Watkins (Royal Wellington) 70 77 78
226 Darae Chung (Shandon) 75 71 80
227 Liam Hewitt (Queens Park) 72 75 80
More on SunLive...