Answering the 'why' of Maunganui Road changes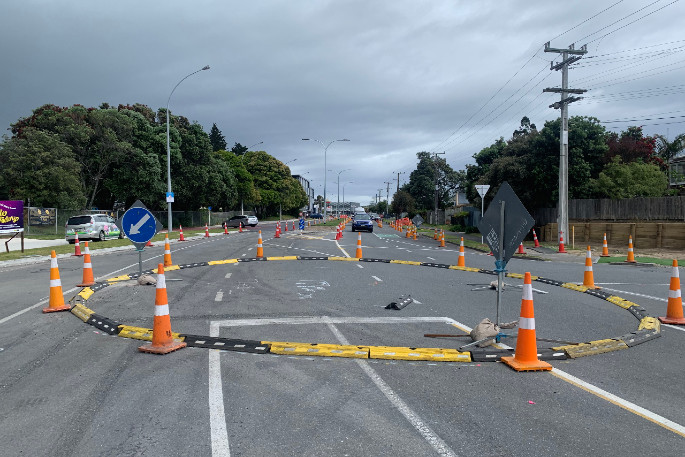 A stretch of Maunganui Rd from Hull Rd to Hinau St is undergoing major construction work.
Improvements started in 2017 between Tawa St and Sutherland Rd, followed by a three metre shared footpath/cycleway along Blake Park in 2019.
Angle parking with more than 160 additional parking spaces at Blake Park and the Mount Action Centre and a new Blake Park/Bay Oval entrance and footpath link are all new additions.
Tauranga City Council director of transport Brendan Bisley says there has been a lot of complaints over the last few years about traffic speed, traffic volume and heavy traffic vehicles.
"It's a super wide corridor connecting Hewletts into the Mount."
But around Blake Park people often park on one side of Maunganui Rd, before crossing over to the other side, dodging cars that are often exceeding the speed limit.
Changes to Maunganui Rd will maintain its function of moving traffic, but will also cater to other needs, including pedestrian crossing facilities, says Brendan.
"For the kids that are going to play sport we need better, safer cycleways. The shared path on one side is all about an off-road cycleway for the less confident cyclists in that really busy traffic."
The solid median in the centre of the road with tree planting has two design outcomes.
"As a pedestrian you only have to cross to half-way and then wait for a gap on the other side whereas at the moment everyone is just trying to run the gauntlet of trying to pick a gap in both directions and just going for it with no safety zone in the middle."
There's also enhancement and tree planting in the green central strip, while also providing space for stormwater storage and disposal in the future.
"We can put in storage tanks to allow stormwater to slowly dissipate away. By putting some trees there, you also get a vertical nature, the street feels slightly more enclosed and vehicle speeds go down.
"That's part of the reason roundabouts are going in. As a motorist you don't have just a straight run through. You have to slow to navigate those roundabouts so you moderate your speed as you go rather than using Maunganui Rd as a bit of a race track."
Local residents living in the side streets have also complained about being unable to get in and out of their street.
"The roundabouts balance that a little bit. And they're more environmentally friendly than putting in traffic signals."
The new roundabouts have been introduced at Clyde St and Tay St.
"Doing what we're doing is hopefully creating a safe environment so that all modes – that's walking, cycling and motorists – can use it safely."
Construction is expected to be completed by June 2021 with similar changes to Maunganui Rd, in the stretch down to Golf Rd to be completed by 2024.
More on SunLive...