A fishy Christmas yarn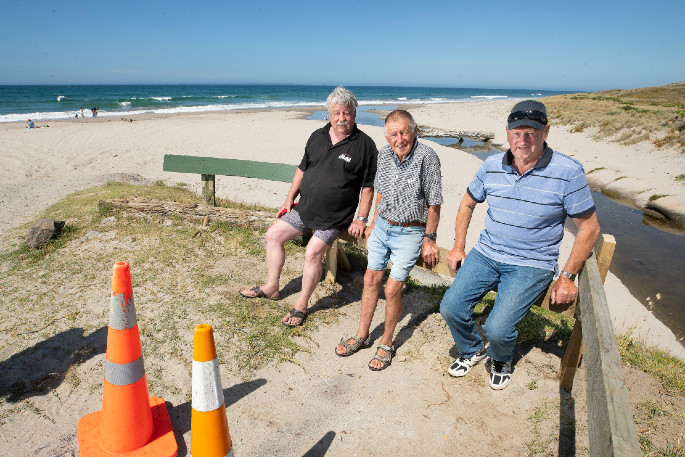 Sometimes a surprise from Santa's helpers can be a little alarming if you're not expecting it.
This was the case for Paul Cameron, Gordon Peterken, Barry Harford, Hugh Jorgensen (Jorgy), Ray Smith, Graeme Williams, Gary Thompson and others this week.
Most mornings the group of fishermen congregate near the Harrison's Cut boat ramp and chew the fat while the sun rises over Papamoa beach.
The near daily ritual of heading off out of the house and meeting at Harrison's Cut has been going on for about 17 years. All married, mostly retired, the thing they have in common is fishing.
About ten years ago Jorgy built seating, and a sign 'Fishermens Corner' was installed with a small fish attached to the seat. One day a log washed up, so the men towed it up with a truck and extended the seat.
"Because we didn't have enough room for everyone to sit," says Jorgy.
This week the group emerged from their cars only to discover that their legendary Fishermens Corner seating had been ripped out. A passing architect told them he'd seen a Tauranga City Council contractor removing it the day before. Questions flew thick and fast.
"Without any consultation they've taken it away," says Barry. "It's used by hundreds of people. Every time you go down there, someone is sitting on it. No one has fallen off it yet."
During the next day, dismay and disappointment quickly turned to delight as they learned that Council had noticed the seat was becoming a little worse for wear and decided to replace it with a brand new one. At first the men thought it was going to be relocated over near the carpark rubbish bins.
"Sometimes people dump smelly household stuff in there," says Barry.
"No one's going to want to sit there."
A quick check revealed that wasn't what was happening at all, as Council plans for the new Fishermens Corner seats to be reinstated by December 18, which will be just in time for Christmas.
"We are replacing this bench seat because it was rotten in parts," says Tauranga City Council parks asset coordinator Jason Cooper. "We hope to install the new seat no later than the end of next week - weather dependent - as we may need to let a new concrete pad cure prior.
"In the meantime we have put up a temporary safety barrier, as well as some road cones to highlight to people that works are taking place."
The old salts may need to stand around shuffling in the cold morning air for the next week while shooting the breeze and debating the issues of the world, but very soon things will be back to normal, thanks to a rather nice Council Christmas surprise.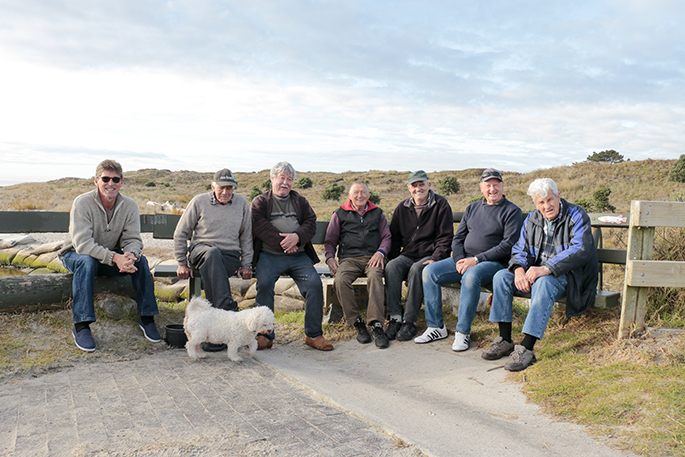 Paul Cameron, Gordon Peterken, Barry Harford, Hugh Jorgensen (Jorgy), Ray Smith, Graeme Williams, and Gary Thompson enjoying Fishermens Corner in 2017.
More on SunLive...