Possible heavy vehicle ban on Oceanbeach Road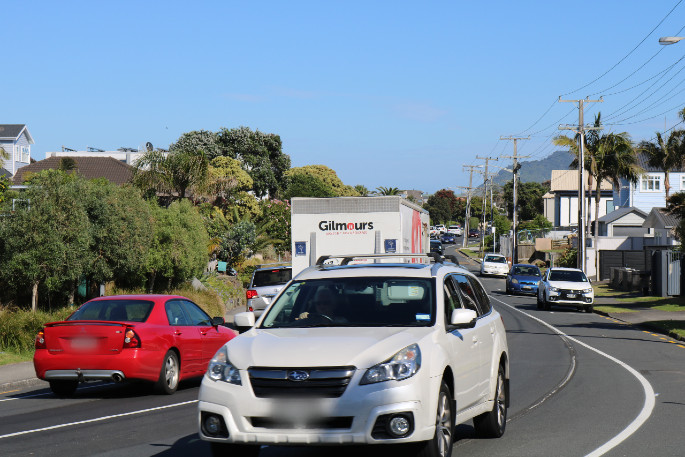 Tauranga City Council have agreed to explore the option of banning heavy vehicles from one of Mount Maunganui's main roads.
This comes in response to a petition from residents concerned about the safety of Oceanbeach Road.
Tauranga City Council director of transport Brendan Bisley says a bylaw would need to be in place.
"We can have a conversation but without a bylaw we can't enforce them coming off those roads.
"It's at the point now where it can't take any more heavy vehicles and can't take any more traffic."
According to the NZTA, collector roads should have between three and 5000 vehicle movements a day, however, the seven-day average at one section is more than 14,000.
An Oceanbeach Road resident says the trucks "clearly don't need to come through here".
Council are also investigating a speed review for the whole area to reduce the likelihood of heavy vehicles simply using other roads.
Brendan says it's a question of "if we move them off there, then where are we moving them to?"
The petition requested the speed limit be lowered to 40km/h.
Councillor Dawn Kiddie says it's an issue that needs to urgently be addressed.
"I've seen photo after photo after photo of accidents there.
"Children absolutely cannot get down that road safely. Everyone will be coming to Mt Maunganui after Christmas.
"I'm happy for the local economy but I'm not happy about that road. There needs to be a sense of urgency for anything we do on that road."
Oceanbeach Road is classified as a 'Collector Road' meaning it connects residential areas to arterial routes.
Brendan says they are doing everything they can to get the changes made before Christmas.
"Ultimately the residents might see some light at the end of the tunnel," says Councillor Larry Baldock.
It's estimated around 190 companies with heavy vehicles use the road.
More on SunLive...