Residential garden a "gift" to Street Kai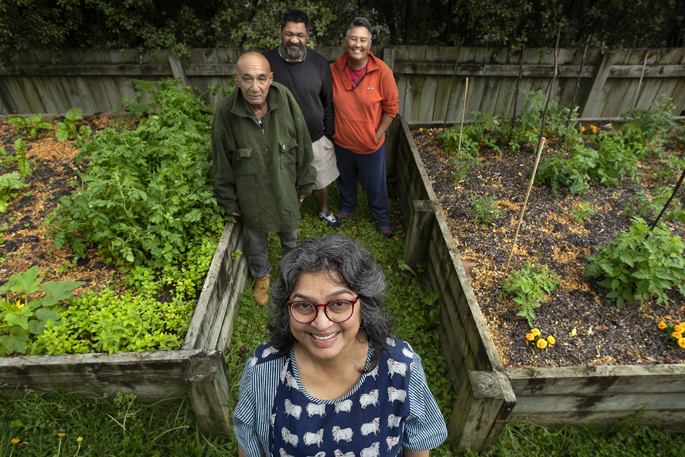 Twice weekly in Tauranga, a group of men tend to a quiet vegetable garden tucked away in the hills of Welcome Bay.
The routine brings peace and a sense of belonging and connectedness among the men, some who are experiencing homelessness.
And this is all thanks to Tauranga woman Rupal Mehta, who offered up her 150 square metre plot of land to homeless advocacy group Street Kai a few months back.
"I am here for the community, and people are my passion. And gardening can be so fulfilling," Rupal says.
"Coming here they feel purpose, community integration and a sense of belonging."
Rupal has volunteered for various community organisations for more than a decade – and joined Street Kai about two years ago.
The idea for the initiative came about after she spent time working with migrant women on farms in Te Puke.
"One day I just looked at my empty garden and it all made sense."
Dougie, who is part of the gardening group, says they all work together as a family.
"This has turned us into a family. What you can see now with these fellas, they are like my family."
He says they are now seeing the results of their hard work, with their first lot of vegetables just starting to appear accross the four garden beds.
"You don't come here to sit around, you come here to work hard."
It's a bonus the plot of land has views across the harbour to Mount Maunganui.
"It's a beautiful place because we can see all of our whenua," says Dougie.
Street Kai founder Tracey Carlton says the garden beds were empty when they first started work on the project.
"It was a dormant space, we had to nurture the soil before we started planting.
"Then we bought the peeps out and they told us exactly what they wanted to grow, and they planted it."
Potato, mint, chard, jalapeno, eggplant, kamokamo, corn, tomato and chard are just some of the vegetables planted.
"The peeps planted all of this, I didn't do a thing," says Tracey.
She describes the garden as a "gift" that has instilled peace and healing among the group.
"Aunty Rupal has given us this remarkable space, and we want to honour her. Typically, nobody would give us this land."
"The mana that comes with being welcome into such a discrete, peaceful backyard – a place where we can relax and be together.
"It's so healing for our peeps to have that break from the CBD. It's a break from the scrutiny you face when living your life in open."
Tracey says the garden is set to grow in future, with the potential for a greenhouse later down the track.
More on SunLive...