Checkpoint numbers a sobering reminder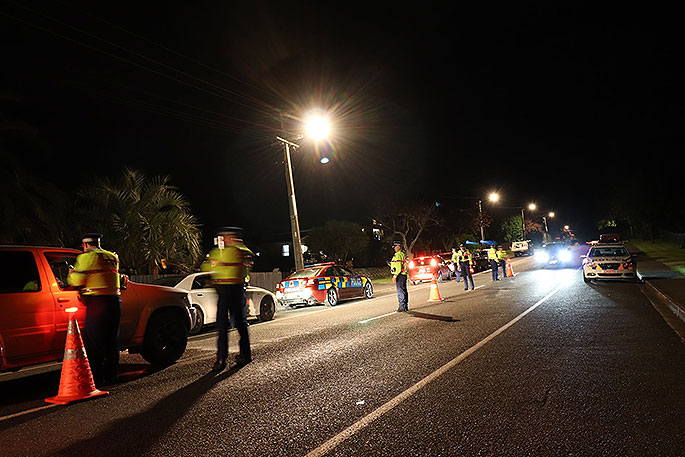 An 18-year-old driver on a restricted licence is one of 196 drivers who were found to have alcohol in their system in the weekend.
Waikato Police conducted an impairment checkpoints operation across the district focusing on intoxicated and drugged drivers in the lead-up to the festive season.
Staff from all of the different workgroups were out on the roads running 90 checkpoints at different locations across the Waikato, including Hamilton City, Kawhia, Raglan and King Country through the Hauraki Plains and eastern Waikato to Whangamatä on the Coromandel Peninsula on both Friday and Saturday nights.
Across both nights, 9779 breath tests for alcohol were carried out on drivers District-wide.
Of those, a total of 196 drivers were found to have traces of alcohol in their system under 400mgs of alcohol per litre of breath.
Fifty three of those drivers received an infringement for having between 250 and 400mgs of alcohol per litre of breath.
Another 74 people blew over 400mgs and will face court action.
Twenty four drivers had their licences suspended due to high levels of intoxication or other matters. Nine blood tests were carried out with results still pending. Six vehicles were impounded, and eight people were arrested.
District Commander Superintendent Bruce Bird says it's pleasing to see a lot of good behaviours shown by people who had a sober driver, or opted to grab a taxi or ride-share to get to and from their destination safely.
But the results were also disappointing, he says, and showed there is still complacency among some who think it is acceptable to drink alcohol and get behind the wheel.
"Year on year between a quarter to a third of the Waikato's road deaths are caused by drink drivers - this is just so preventable.
"If people drove sober, didn't speed, wore their seatbelt we would be able to prevent so many tragedies on the road – the road deaths would be slashed."
Among those stopped was an 18-year-old driver on a restricted licence with four passengers in the car doing 81kmh in a 50kmh zone who blew 657mcg of alcohol per litre of breath. He had travelled from rural outskirts of Hamilton to the city to purchase pizza.
"When you drive you have a social contract with the community to be sober, rested, with an appropriate licence and in a legally compliant vehicle."
Between 2015 and 2019, 375 people were killed in crashes where the driver was over the legal alcohol limit, and nearly 1600 people were seriously injured in those crashes in New Zealand.
"Police will be doing everything we can these holidays to prevent tragedy on the roads by breath testing drivers.
"But we need you to make the right choice – driver sober."
More on SunLive...