Tiny things create full-sized friendships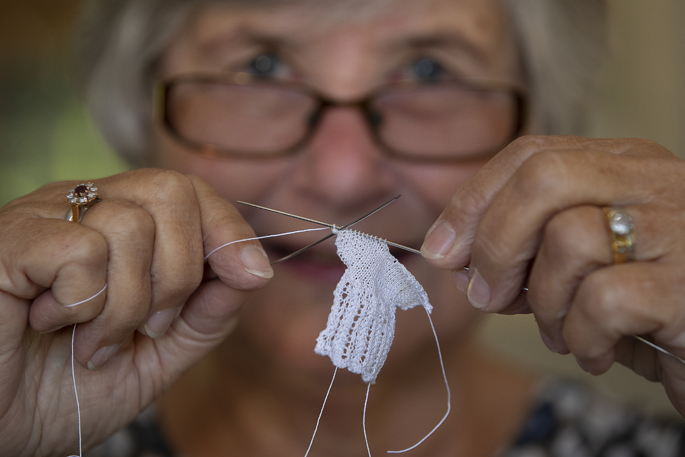 The intricacy of Jan Gee's knitted clothes and hats is impressive, especially because all of it is 12 times smaller than a normal dress or hat.
The knitting adorns the front window of her 1:12 scale model of a haberdashery shop, it is complete with a cash register, tiny balls of wool and rolls of fabric.
Jan is the president of the Tauranga Miniature Clubs and although she has always loved everything little she has only been making miniatures for four years.
As a child, her mother would have to check boxes before throwing them out to make sure Jan hadn't tucked something tiny inside them, like a flower or doll.
Jan laughs about how, when they visited her daughter's in-law in England, they went to a china shop and she chose a tiny china water jug and basin as a gift when they wanted to buy her a full tea set.
"They still tease me about it."
The Tauranga club formed after Jan and other local enthusiasts visited the national association's bi-annual exhibition in Mount Maunganui.
They decided to make their passion an official club and it was then Jan turned her love of tiny things into a hobby.
The club now has 15 members, aged between 12 and 93, with some coming from Matamata and Rotorua for the monthly workshops and catch ups.
Jan says the club's catchphrase is 'making it small' but they've made big friendships from it.
The miniatures are made from anything and everything, including modelling clay, fabric scraps, balsa wood and repurposed bits and bobs from around the house. They also buy tiny modelling items that they can't make themselves.
Most miniaturists have cupboards bursting at the seams with items that might be useful for their models, says Jan.
During one of their workshops they were given the challenge of using a pill container as part of their model.
Jan made a roulette scene, fellow member Jenny Archiepow incorporated hers into a farm scene and the winner of the challenge used hers to make the Goodnight Kiwi scene that used to signal the end of TVNZ's broadcasts.
Jenny has been a miniaturist for more than 25 years. She also paints and has made a miniature art studio full of her original works.
A lot of people say they wouldn't have the patience to make minis but Jenny says you don't need it, you can create when the mood strikes.
"I'm not a patient person, because you're not in any hurry, there's no pressure."
The club recently had its first exhibition which went 'brilliantly' and it helped create interest for new members which they are always on the lookout for.
More on SunLive...