Tauranga development described as inner city oasis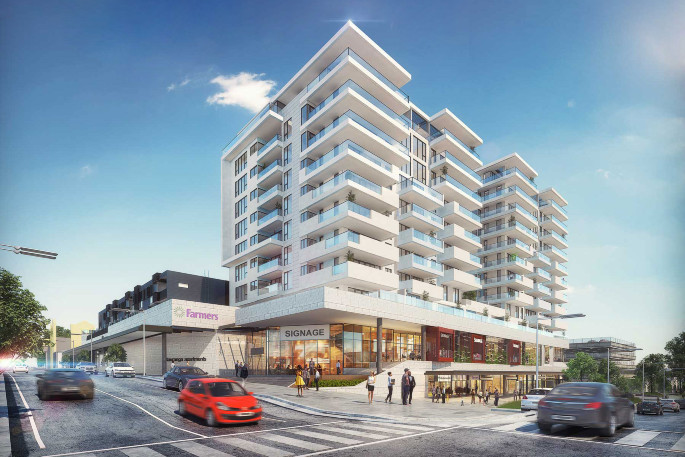 Living above Farmers sounds like the perfect easy living, with benefits. If you're cooking a large chicken and your appliance goes 'boom', you can pop downstairs and pick up a new one, no problem at all.
The convenience factor of this inner city oasis opens up new ways of enjoying life.
Friends popping in can easily park, meet you in the food and beverage area, go back to your apartment for a drink and then head back downstairs for an appetiser.
Meanwhile, the grandkids are off shopping.
Thirty Eight Elizabeth is the name unveiled at a breakfast event in Tauranga this week for the much-anticipated $200 million Farmers Tauranga Development, which is rising rapidly on the corner of Elizabeth St and Devonport Rd.
It will be New Zealand's first development to offer an architecturally designed modern mix of retail, residential and dining in one prime location.
The idea of living in an apartment or townhouse in downtown Tauranga, with unparalleled views overlooking the city, harbour and towards the Mount is hugely appealing to those keen to get off the traffic grid and have everything they need within walking distance.
The new Farmers flagship store and other select retail and dining experiences will be complemented by the residential offering of 97 luxurious apartments and 23 sky townhouses - now collectively named Elizabeth Towers.
"It was time to give this spectacular site its names," says project manager Brett Nicholls.
"As Elizabeth Towers goes up within Thirty Eight Elizabeth, we want the local community to feel as proud of this site as we do."
The new gateway to the inner city, Thirty Eight Elizabeth, due to open in late 2021, is expected to draw life and heart back into the downtown area. The Elizabeth Towers' apartments and townhouses will be available to view and purchase shortly after.
Fashionistas will fall in love as all the cosmetic houses and fashion labels will be within the full-range store which will feature higher ceilings than traditional stores, creating a sense of lightness and airiness.
"There's no other development in New Zealand with A-grade retail stores like this."
A podium sitting above the retail and dining precinct will feature a spectacular sky garden – a cosmopolitan replacement for the traditional backyard with communal garden terraces, a state-of-the-art pool, spa, gym, and entertainment areas.
For residents, the expansive windows and generous, oversized balconies complementing the contemporary design in the apartments and townhouses within Elizabeth Towers will give an overall sense of sanctuary and privacy as well as a timeless elegance.
An exclusive residential basement car park will expand across the full site, providing plenty of parking for owners. A further 160 carparks will be provided for shoppers.
There has already been strong interest from homebuyers, but the decision to build before putting the homes on the market is one that Brett is sticking with.
"We are choosing to build before bringing the offering to the market to demonstrate its high level of thought, craftsmanship and quality - seeing is believing."
More on SunLive...