Time travelling adventure wins first place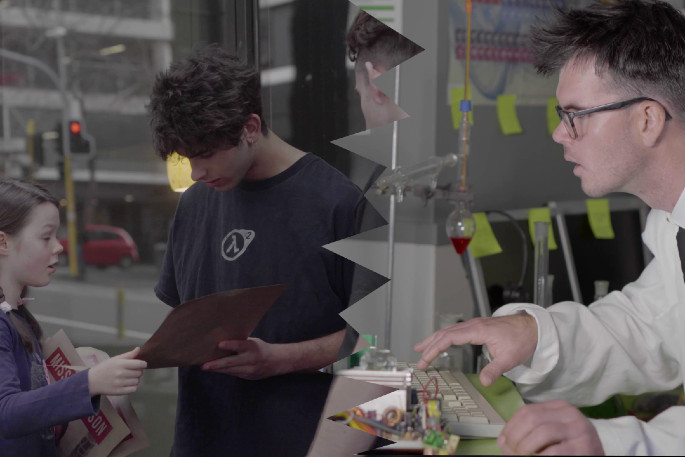 Two young filmmakers' excellent technical skills and brilliant use of storytelling has seen them win the top award for the International Youth Silent Film Festival New Zealand National 2020 competition.
The awards are held annually at Baycourt Community & Arts Centre in Tauranga, but this year due to Covid-19, were pre-recorded and streamed live.
Sci-fi themed silent film 'Lost In Time' by Carmel College's Sophia Kwon, 18, and Lynfield College's Daniel Wardadi, 17, was announced the overall winner of this year's competition.
Along with winning first place and the cash prize of $1500, Sophia Kwon also picked up the award for Best Editing for her work on 'Lost In Time'.
Coming in at second and collecting a cash prize of $1000 was Tauranga Girls' College filmmaker Tearani Wikohika for her sci-fi film 'Chasing Shadows', which also took home the award for Best Cinematography, while the film's lead actor Venice Harris, 14, picked up the award for Best Actor.
Along with their accolades and cash prizes, the Top Two films 'Lost In Time' and 'Chasing Shadows' will now automatically represent New Zealand at the IYSFF Global Awards Final which will be held at the Hollywood Theatre in Portland, Oregon, US, in June 2021.
The IYSFF competition challenges filmmakers, aged 20 years and under, from the United States, Europe, Australia, The United Arab Emirates and Aotearoa to create a three-minute silent film set to one of 10 musical scores composed for the festival.
Due to the impacts created by the Covid-19 outbreak, organisers made the difficult decision to switch to a streamed version of the 2020 IYSFF NZ National Awards Final.
The 15 finalist films and the awards show are available to view via Baycourt Community & Arts Centre's Facebook page.
Traditionally, the finalist films of the Aotearoa competition are screened at the Awards Final which is held at Baycourt Community & Arts Centre – where the competition debuted in New Zealand back in 2016 – with the soundtrack for each film performed live on Baycourt's mighty Wurlitzer Theatre Organ.
Entries for the IYSFF NZ National 2021 competition are now open. For submission guidelines and soundtracks visit the IYSFF's official website: www.makesilentfilm.com
More on SunLive...