Curate sleighs at gift giving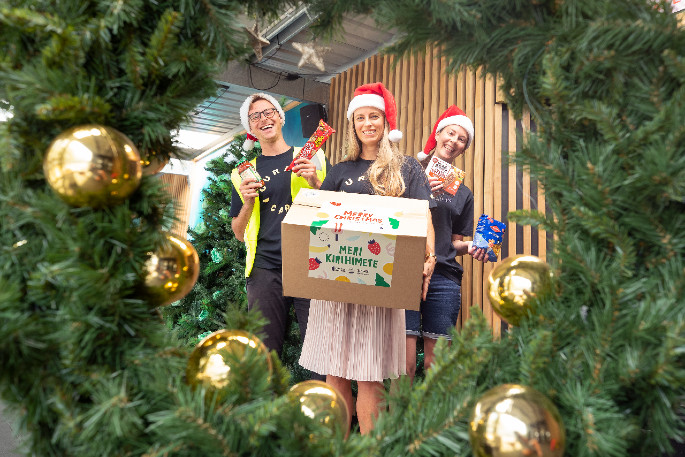 Last year, Curate Church's Gift of Groceries Christmas hamper initiative resulted in 1200 grocery boxes being given to more than 30 Bay of Plenty charities to distribute into the community to individuals and families facing difficult circumstances.
This is the sixth year since the annual project began and project co-manager Elle Crawford says that next week 1600 boxes will go to 40 local organisations such as Oranga Tamariki, NZ Police, Plunket and Waipuna Hospice.
"We are collaborating with New World Mount Maunganui, Pak'n Save Papamoa and Kiwi Larder - they have been really generous with their pricing so we can get as much into the boxes as we can, and they have helped with sourcing bulk orders of product."
Each box will contain $60 worth of goods, both staples and Christmas treats, including sparkling grape juice, Christmas mince pies, pasta, pasta sauce, rice, stir-fry sauce, canned fruit, tomato sauce, rice crackers, chips, muesli bars, bliss balls, two packets of biscuits, a bag of lollies, a block of chocolate, cornflakes/Ricies, popcorn, toothbrush, toothpaste, and fresh produce.
On Tuesday and Wednesday, volunteers will pack the boxes with non-perishable items and produce.
"Around 200 Curate volunteers are involved, including a crew from Curate's addiction recovery group, several staff from Holland-Beckett Law and a group of young adults with disabilities from Casita," says Elle.
"Once packed, local organisations will pick up their boxes and deliver them personally to individuals and whanau, which is always such a moving experience," says Elle.
Over the year, Curate Church members and local businesses have been making generous financial donations to the volunteer-powered project, which Elle says directly helps local people in need and promotes hope and kindness amongst the community.
Other Curate community initiatives include free weekly community dinners, school lunches for low decile schools, community working bees, kids' polar-fleece clothing packs giveaway, addiction recovery groups and homelessness support.
Next year they are aiming for 2000 Gift of Groceries Christmas hampers.
"Christmas can be a really hard time for many people both financially and mentally, so join with us as we spread some Christmas aroha," says project oversight Daniel Bosson. "We would love to hear from you if you are interested in being part of this impacting project through your financial contributions; your generosity would mean the world to us and our community."
To contact Daniel to help with future community projects, email: hello@curatechurch.com
The organisations that pick up and deliver the boxes to their communities are Age Concern Tauranga, Arataki Primary, Awhina House, Department of Corrections, Family Works, Homes of Hope, Huria Trust, IHC Supported Living Service, Imagine Better, Kai Aroha Tauranga, Karamuramu Kindergarten, Matapihi Kohanga Reo, Merivale Community Centre, Minginui Whanau Ora, Mount Maunganui College, Ngai Te Rangi Iwi, Ngati Ranginui Iwi, Open Home Foundation, Oranga Tamariki, Otumoetai College, Papamoa Family Services, Plunket Tauranga, Police, Pregnancy Choice, RSA Mount Maunganui, Shakti Ethnic Women's Refuge, St Vincents BOP, Tauranga Community Housing Trust. Tauranga Hospital, Tauranga Special School, Tauranga Women's Refuge, Tautoko Mai Sexual Harm Support, Te Manu Toroa Communuity Health, Te Tuinga Whanau Support Services, Te Whakatipuranga School for Young Parents, The People's Project, Waipuna Hospice. The services in Te Puke are Empowerment, Fairhaven School, Hapai Mama, Nga Kakano, Plunket Te Puke, Te Kura Kaupapa O Te Matai, and Te Puke Primary.
More on SunLive...