Cricket fan meets her heroes at Bay Oval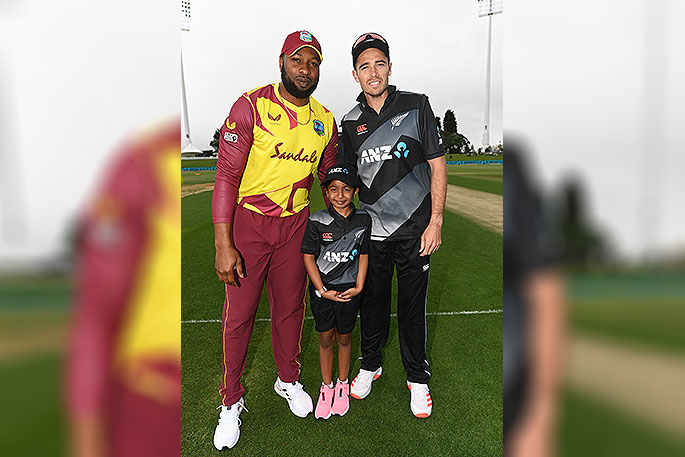 Ngatea cricketer Sharanya Sahu is over the moon to have had the opportunity to meet her heroes on Sunday.
The seven-year-old participated in the pre-match coin toss with cricket captains Tim Southee and Kieron Pollard as a part of the ANZ Coin Toss competition at the BLACKCAPS vs West Indies match at Bay Oval.
Sharanya, who attends Ngatea Primary School, won the opportunity to be a Coin Toss kid and experience standing side by side with the captains Tim Southee and Kieron Pollard, as they decided who would bat and bowl.
Sharanya says her favourite part of the experience was getting autographs from the captains and learning some tips to improve her own batting game.
Specifically, that "you have to score really big to win".
This Sharanya no doubt learned from Black Cap Glen Phillip's electrifying performance, scoring 108 off just 51 balls.
Head of Sponsorship at ANZ, Sue McGregor says Sharanya is one of 22 promising young cricketers chosen to take part in the pre-match custom this cricket season.
"After such a tough year it has been even more apparent the important role that sport and our sporting heroes play to inspire our future generations.
"We are so pleased to be able to continue creating these once in a lifetime opportunities for our future BLACKCAPS and WHITE FERNS.
"Getting to meet their heroes is something we hope will stay with them for years to come."
The Coin Toss experience is part of ANZ's long-standing support of Kiwi cricketers.
Since 2009, ANZ has given over $1 million to local cricket players, teams & clubs. In addition, ANZ has donated $1 million in grants to grassroots cricket and netball clubs to help them get back up and running after COVID-19.
Applications to win the chance to take part in the ANZ Coin Toss experience are still open.
Apply for the Coin Toss Experience or for an ANZ Cricket Grant at www.anzcricketworld.co.nz/
More on SunLive...