Drivers revved up for the Tauranga Toy Run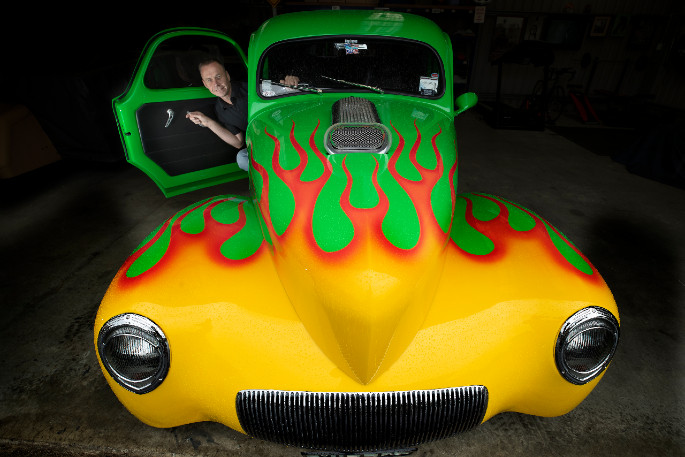 The Tauranga Toy Run next Friday is a chance for people to get their pride and joy out of the garage and support a great cause.
Hot Rodder Craig Jefferson hasn't decided if he'll take his 1941 Willys Coup or 1923 T Bucket to the event that raises money and awareness for Waipuna Hospice and the Child Cancer Foundation.
People come from around the country for the biggest hot rod event in the Bay of Plenty and everyone who takes part is expected to bring toys for the foundation or money for the hospice.
Organiser Jill de Buisson says books, puzzles, educational or creative toys that will keep kids entertained in a waiting room before or after treatment are the best and they must be new.
Car enthusiasts can meet at the Sulphur Point Marina from 4.30pm on December 4, before setting off at 6pm to downtown Mount Maunganui then back through Tauranga and finishing at Fraser Cove.
Craig has been taking part in the run for at least 15 years, nearly as long as the 20 years he's owned his T Bucket, after taking it off his dad's hands and getting it back on the road.
The T Bucket is a replica and has been built from scratch - the key to keeping hot rods running is like any car - keeping up with maintenance and making sure they're driven, he says.
"It's all about using them too, they don't like sitting around."
The Toy Run is in its 17th year and started with about 50 cars in the first year to more than 400 hitting the road last year.
"It's a really, really popular thing and every year the numbers just seem to be getting bigger and bigger."
It's also a chance to catch up with people that you might not have seen since the last one, says Craig.
You don't have to have a hot rod or classic car, any car is welcome as long as it's not Japanese.
It's not just drivers that enjoy the event, spectators line the route to check out the convoy as it goes by.
People can also head to Fraser Cove from 7.15pm for the show and shine and donations are collected there as well.
Jill says the event couldn't go ahead without the generosity of the hot rodders or sponsors.
"The hot rodding family are incredibly generous and it's mind blowing what actually happens on the night with the kindness and the generosity of people."
For those who can't make it on the night and still want to donate there are drop off points at Tauranga Sport Fishing Club and Worlds End Bar and Restaurant.
For more information search Tauranga Toy Run on Facebook.
More on SunLive...