First place, read all about it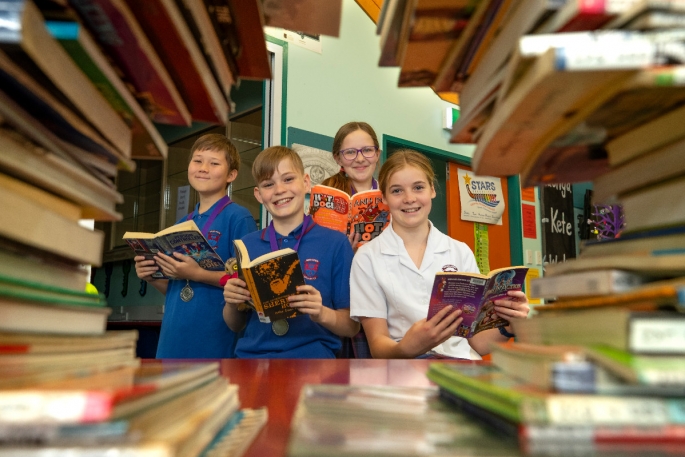 A sudden death play-off was required after three teams tied for first place in the final of this year's national Kids Lit Quiz competition held in Wellington on November 15.
For the first time in the competition's history three teams – from Tauranga Intermediate, Havelock North Intermediate and Southwell School from Hamilton – tied for first place.
Havelock North Intermediate in the Hawke's Bay triumphed after a tense tie-break round, with Tauranga Intermediate finishing second.
This year's TIS team members were James Cavit, Noah Burrell, Pippa Montgomerie and Sophie Crowther, all Year 8 students.
TIS librarian Heather Grey accompanied the team to Wellington.
"We're just so proud of them. To end up first equal like that was amazing, and then to do so well in the play off," she says.
The team won a trophy and $100 each for their prize.
They also fitted in visits to the Weta Workshop, Zealandia wildlife sanctuary and the Wellington cable cars during their two-night stay in the capital.
The team's advice to Year 7 students is to have a go because the training over the year was fun and the trip to Wellington was a great memory.
Kids Lit Quiz organiser and quizmaster Wayne Mills started the event in a Hamilton community hall 29 years ago.
His goal was to encourage children to read for pleasure and celebrate their literary knowledge.
The quiz has since grown to include 11 countries, many of which held virtual competitions this year.
New Zealand teams have an impressive record on the world stage, winning five of the 16 international finals.
OECD research shows that reading for pleasure is the single most important indicator of a child's future success. It's an even more powerful factor in life achievement than socio-economic background.
"Reading also helps kids develop empathy and emotional intelligence, which is well documented as an indicator of successful relationships and success in the workplace," says Wayne.
"Kids identify with characters as role models of behaviour, and the well-developed characters in books discourage stereotyping.
"So just by opening up a book there are worlds to explore. It's absolutely no fluke that books are shaped like doors for that very reason."
More on SunLive...