Ruatoria Pies thriving despite Covid-19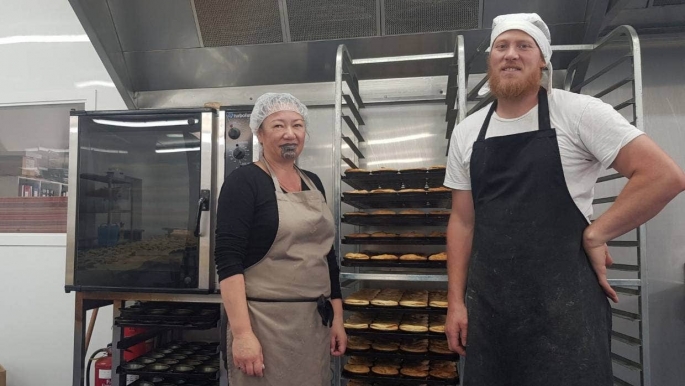 In the small East Coast town of Ruatoria, population about 750, one of the ways to make a crust is to run your own business.
Which is exactly what the owners of Ruatoria Pies have been doing since Pakanui Webb and Bobbi Morice bought Kiwi Tea Rooms 16 years ago, becoming the third generation of Bobbi's family to own the business.
Bobbi came from a long line of businesspeople, with her other grandparents owning a pub up the road, and with her husband they opened up the bakery in the tearooms.
Ruatoria Pies does not operate a cafe, but its pies are on sale and famous in a triangle stretching from Hicks Bay at the northernmost tip of the cape, to Gisborne, to the Bay of Plenty.
They make about 5500 pies a week, up to a thousand a week more than a year ago, and employ about 13 people, double the number of staff a year ago.
Pakanui and Bobbi were focused on growth when Covid-19 hit, having renovated their bakery in late 2019, and were in full swing when the lockdown hit.
They took five weeks off, and when they started production again after the end of level 4, they took it slowly.
"We didn't really know what was really going on out there, so to be safe and to keep our staff safe we just started small," says Pakanui.
Once the situation became clearer a few weeks later, they went back to full deliveries.
"It didn't take long at all really once we started up, just delivering to the East Coast for two weeks then the next week we were back into it, back to normal."
It's not until something gets taken away that you appreciate what you had, including pies.
"That's what happened with us, it actually increased our business I think, it solidified our product."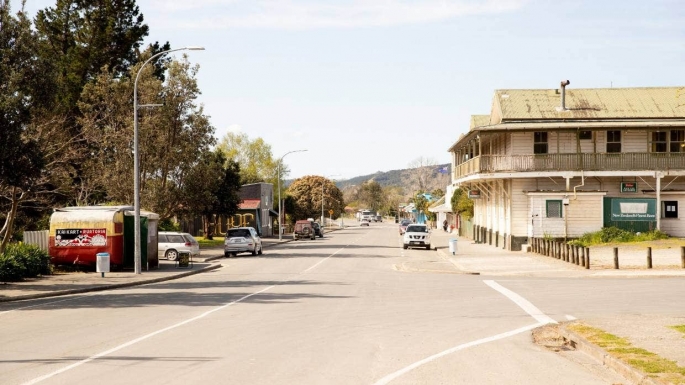 In general, things in Ruatoria seem to be looking up, says Pakanui Webb. Photo: Tom Lee/Stuff.
Needing to free himself up, and wanting to avoid burnout as the business grew – it has also picked up school lunch contracts for a few schools around the Ruatoria area - the bakery has been hiring staff and training them up.
"A lot of small businesses, why they won't hire is because they literally can't afford to hire.
"It's probably not until the business goes to the next stage, up to a bit more than medium, then they can actually afford to grow and take on more staff."
In general, things in Ruatoria seem to be looking up, says Pakanui.
The bakery recently hired two pie makers, and someone to cook the meat fillings.
"We knew the people that came in, our nephew and niece, we know what they're like in general, they'll have a go.
"Making pies, you don't finish until the day is done so you're actually finished, it can be quite a long day."
Recent research commissioned by Te Puni Kōkiri confirmed that Māori businesses employ more Māori, showing the impact they had on employment and participation in their local economies.
"Over here in Ruatoria there's a high percentage of Māori, in general the people that you can hire are locals, which are Māori," says Pakanui.
"Usually our staff are all family in some way - they're all related, or our families are close, like community is like family, really."
Ruatoria Pies is "a 100 per cent Māori business", he says.
"For a start, everyone is Māori, everyone who works here is Māori, or they're married to someone who's Māori."
Its values and how it operated also defined it as a Māori business.
"Lots of things come up, like if there's a tangihana or a there's a tangi or something like that - if you look in the normal law, for an employer to pay someone [to take time off] it has to be someone who is absolute immediate (whānau).
"You're not exactly immediate to a lot of whānau, but they are your whānau, and so that's probably a big one there.
"I reckon it's a different work ethic too. No matter what happens, it's a family business, the job will get done the best that it can, whether we're down a staff member, or we're short that day.
"Everyone understands, oh well, it's only us today, we'll get on with it and get the job done. We're not going to moan and cry about it."
In general, things in Ruatoria seemed to be looking up, says Pakanui.
"Forestry is still happening, most industries are still going - there's quite a few different industries going on on the Coast and in our area.
"I would say there's probably a lot more employment around. If you think about it like that, there's a lot more opportunity for people to fulfil their dreams or their goals that they have."
More on SunLive...