Marrying small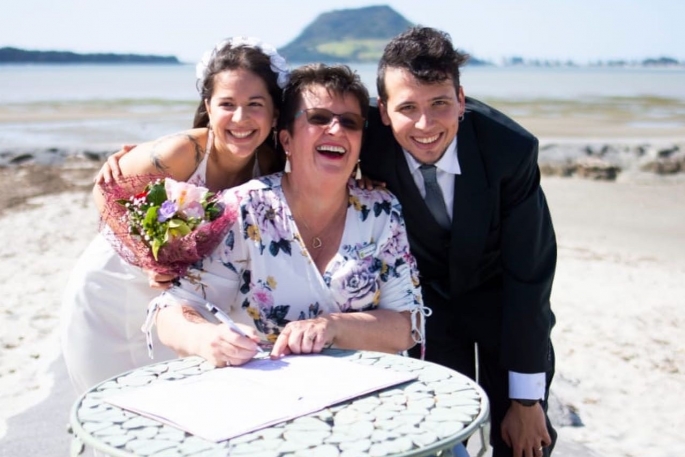 A month deep into the wedding season and it seems couples are opting for small, rather than large scale celebrations.
Closed borders and the risk of another outbreak are just two of the reasons why couples are tightening their numbers.
Greta Kenyon, editor of wedding magazine, Together Journal, says smaller weddings were beginning to be popular even before the pandemic but COVID-19 speed up the trend.
As well as overseas guests not being able to attend, she says couples can have smaller weddings without feeling guilty, which is leading to the smaller numbers.
"COVID has made it acceptable to do anything… you can get married at your living room and that's fine."
Tauranga wedding celebrant Debbie Woodfield has noticed couples are wanting to just get the legal side of the marriage done and save the big celebration for later.
She's run 13 registry-style weddings since July which normally take place at her house or theirs.
"The story has been the same over and over again: 'can we please just do it here because we can't get our families across'."
She says couples are postponing the celebration for when the borders open.
A few weeks ago Debbie was a celebrant for a wedding with about 125 guests. The wedding was originally meant to take place in March but was postponed as a result of COVID-19.
Debbie says the couple was worried about another outbreak.
"Their nervousness about COVID two weeks prior to their wedding was really sad to witness."
She says couples who change their weddings to smaller gatherings often come back saying they're glad it was a more intimate size.
"The bigger the budget, the more stressed the couple becomes. Their focus on decorations, party favours, bridesmaid shoe colours, dressing gowns for the morning of the wedding becomes all consuming.
"COVID has shown me that we can tone it down and still have a really lovely day."
President of the Celebrants Association of New Zealand, Lianne Fraser says her bookings next year and 2022 have reflected people's desire for simpler and smaller style weddings.
"I have a sense that couples just want to do it without the fuss because there's so much uncertainty around what may or may not be able to happen."
Abby Luke, director of Tauranga wedding venue, Ataahua says the venue is seeing 20-30 fewer guests per wedding, as a result of the closed borders.
She says it's led to some couples postponing their weddings to 2022 hoping that borders will be open by then.
For the couples that decide to still get married, she says there's an air of sadness during the formal moments when absent key guests are acknowledged.
More on SunLive...