Riding high on Christmas cheer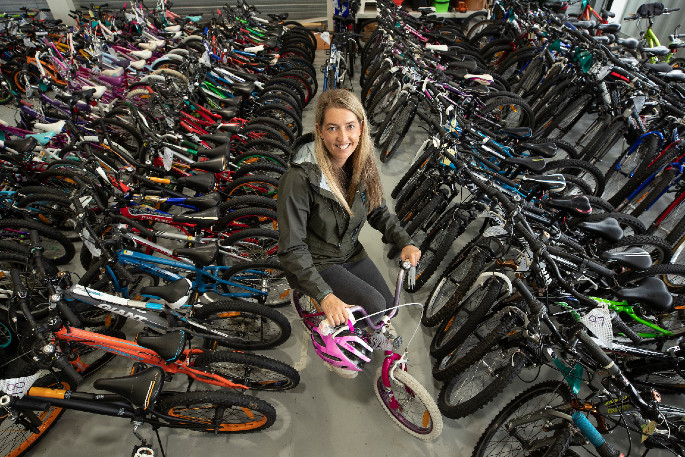 More than 300 second-hand children's bikes and 70 lawnmowers have been donated to the Good Neighbour charitable trust.
"It's been a really big community approach," says Good Neighbour marketing coordinator Angela Rogers.
All the donated bikes and mowers are being checked over and repaired prior to their re-distribution to families in time for Christmas.
Community 'legend' Lex Spencer, who already fixes hundreds of bikes for people in his own time is helping repair them, Angela says.
The donated bikes were collected by John and Leonie Betteridge at My Ride bike shop in Mount Maunganui.
It's the second time Good Neighbour has organised a 'bike drive' and it was prompted by the success of the first one in 2018.
"We just had so many calls from the community wanting it to be done again. There's obviously a real need out there and a desire to give these second-hand bikes onto a better cause," says Angela.
All of the partner charities who regularly receive rescued food donations from Good Neighbour have now been asked to nominate deserving children and families to receive a bike before Christmas.
Recipients will be spread out evenly across Tauranga's suburbs and across the 65 charities involved.
"These bikes will make a massive difference," says Angela.
"When it comes to the choice of putting food on the table or buying luxury items like a bike, food will be the priority understandably. So a present like a bike is a real treat.
"For a lot of these kids, it actually means that they can bike to school so it saves them hours of walking."
Thanks to generous donations from Generation Homes and individual sponsors, a new bike helmet, bell and reflectors will also be handed out when each bike is delivered.
Good Neighbour has also been thrilled by the response to their recent lawnmower appeal to help people maintain their garden when they can't afford to buy or rent such equipment.
"We've had 70 donated and we've got two qualified mechanics fixing those up now. They'll be dished out before Christmas too which is wonderful news," says Angela.
Around 15,000 volunteer hours now go into Good Neighbour projects and activities every year, with plenty of local businesses lining up to volunteer their staff for a day.
"If you're a business that's interested in doing some volunteer hours or a community project, or have a community project in mind, we'd love to hear from you."
Angela says volunteer work is a great way to connect with the community and is really good for morale and team bonding.
More on SunLive...