Students urge motorists to "just slow down"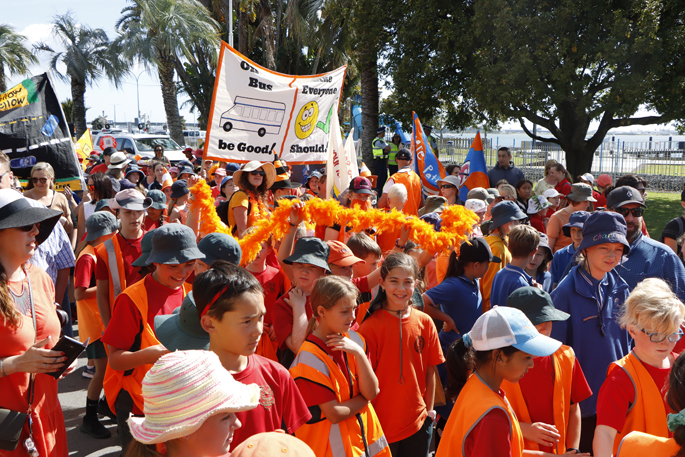 Hundreds of Tauranga students turned the CBD streets orange this morning in an effort to raise awareness for road safety and active travel in the community.
Orange Day 2020 saw 31 primary and intermediate schools from the Western Bay come together to parade the inner-city streets with their hand-painted signs.
In its 13th year, the celebration acknowledges students who have been working throughout the year to promote road safety.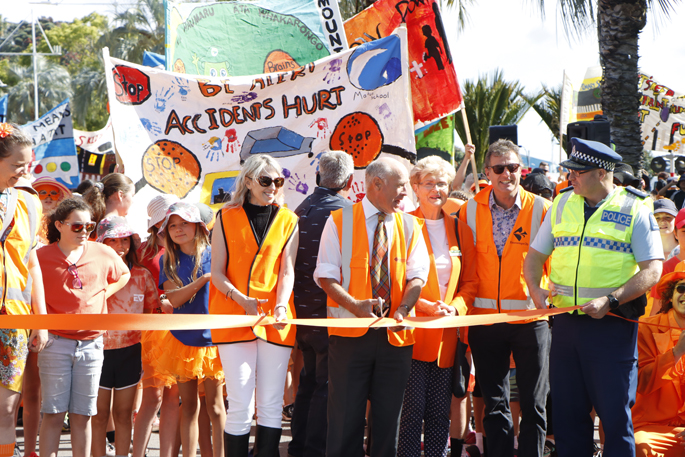 Tauranga acting Mayor Tina Salisbury and Western Bay deputy Mayor John Scrimgeour cut the ribon. Photo: Caleb Fotheringham/SunLive.
Students gathered along The Strand at 9.15am for the official opening address by Tauranga acting Mayor Tina Salisbury.
"I thank each and every one of you for what you do to contribute to safety on our roads," Salisbury told the students.
"Volunteers are the heart and soul of our community. Without people like you, the Western Bay would not be the wonderful place that it is. You are helping to build a caring, compassionate and safe community."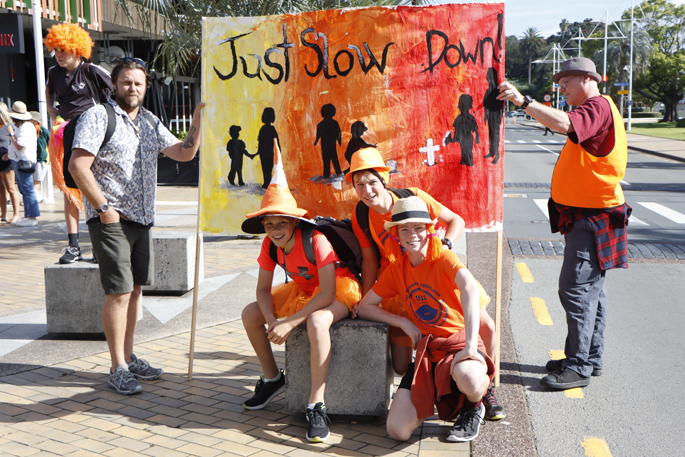 Pyes Pa School year 6 teacher Brendon Oats with year 8 students Mattias, Bradlee and Jack. Photo Caleb Fotheringham/SunLive.
The message from Pyes Pa School students attending the parade was simple, urging motorists driving past their school to "just slow down".
"We want people to slow down. It's hard for kids to get to school every morning because cars come zooming past our school. People should be more aware of the children crossing the road – please be safer," says year 8 student Jack.
Pyes Pa year 8 student Mattias says this year's march is particularly meaningful because their deputy principal Sue Furmage died in a car crash back in February.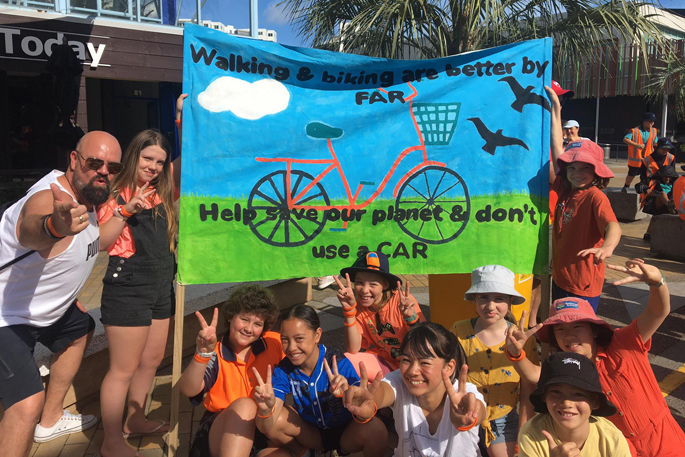 Bellevue deputy principal Scott Symes with student leaders. Photo: Caleb Fotheringham/SunLive.
School leaders from Bellevue School created a sign asking community members to choose active travel over driving.
Bellevue School deputy principal Scott Symes says road safety and active travel has been a focus for student leader throughout the year.
Temporary road closures were put in place along Wharf Street, Willow Street, Grey Street and Elizabeth Street as students made their way through town this morning.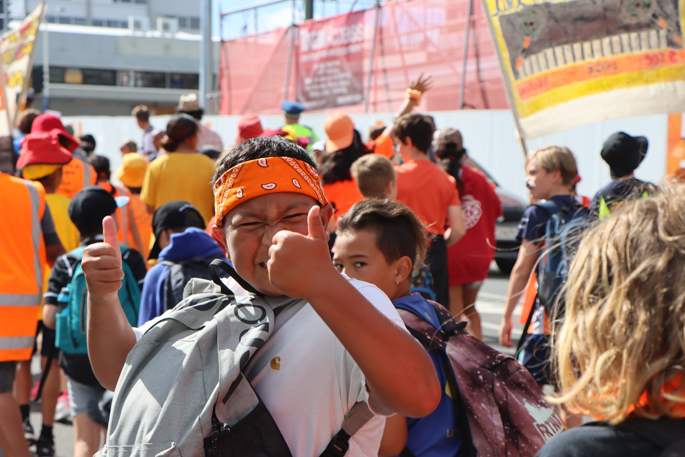 Students could be seen smiling while chanting. Photo: Caleb Fotheringham/SunLive.
More on SunLive...