"Lucky" DC-3 to fly to Tauranga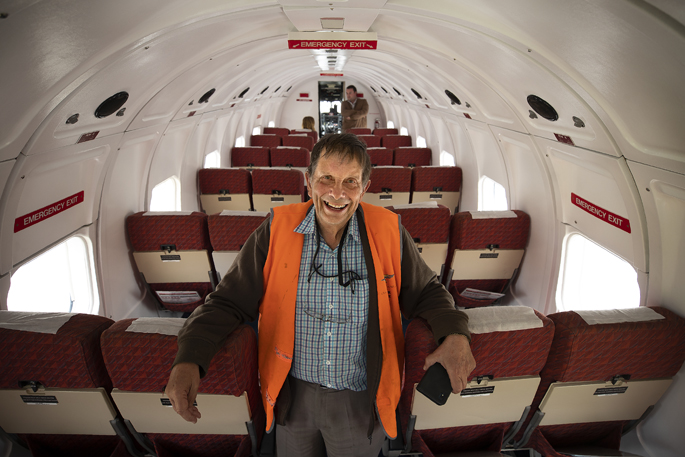 Classic Flyers aviation archivist Peter Layne thinks his all-time favourite aircraft might also be one of the luckiest.
The DC-3 airliner, named Douglas DC-3C, ZK-AWP, was built more than 70 years ago in Oklahoma. Peter puts the aircraft's survival down to being in the right place, at the right time.
And on Sunday December 13 in Tauranga, the lucky aircraft will sit side by side with the only other working DC-3 in New Zealand.
A 1944 DC-3 airliner flying in from Ardmore Aerodrome in Auckland will join Douglas for the day at Classic Flyers.
"It's all by chance – there's no reason they are coming together, it just so happens to be they are."
"It is a fairly rare occurrence to have two DC-3 here together – they are a real pet. To see two of them together is quite different and special," says Peter.
Peter says Douglas, which has just completed 50,000 flying hours, is a "lucky aeroplane".
"It has been kept in very good condition, and has always been in the right spot at the right time."
Years ago at Field Air in Palmerston North, it came close to destruction.
"They had two of them nose-to-nose and tossed a coin," says Peter. "This one won the toss, otherwise it would have been chopped up."
Initially, the Royal New Zealand Air Force aircraft was used to transport returning New Zealand servicemen from the Pacific back to New Zealand following World War II.
Later down the track, it was transferred to the New Zealand National Airways Corporation for freight and passenger-carrying duties.
Peter says when you fly in this DC-3, it's like going back to the "golden days of flying".
The airliner has an open-to-view cockpit, big windows, an old school, commercially-styled cabin and lots of leg room.
Classic Flyers spokesperson Cory Tyler says the DC-3 engine also has a loud hum.
"They have a good grunt aye – you can definitely hear it before you see it."
Air Chathams and the Classic Flyers Museum have been running scenic DC-3 flights in Tauranga each summer since 2017.
The 30-minute flights have proved extremely popular, with Peter saying the experience can be nostalgic for many.
Peter, who has flown in Douglas more than 14 times during his lifetime, still can't quite figure out why the aircraft has been his favourite since he was a 10-year-old.
"My father transferred from the RNZAF to the NAC when it started in 1947. He used to work at Whenuapai, and during the school holidays, I would go and visit.
"I got to know the DC-3 as you would, they had 26 of them in the fleet. For some reason, this particular aeroplane has always been part of me," says Peter.
For more information about the DC-3 Tauranga scenic flights, visit www.classicflyersnz.com
More on SunLive...