Create your own advent calendar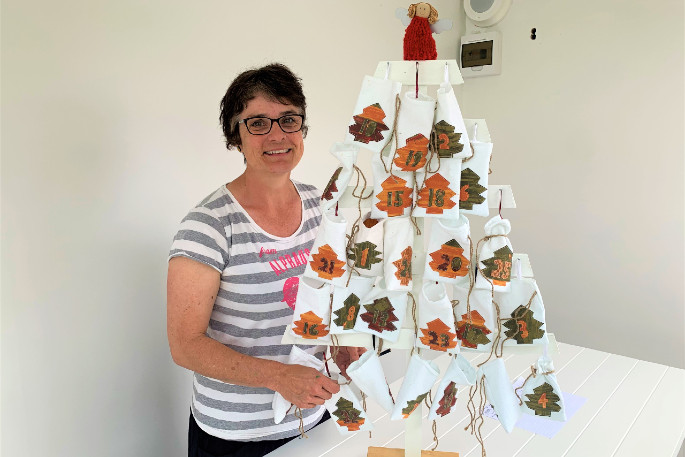 Want to count down to Christmas in style with your own handmade advent calendar?
Sandra Landolt is running workshops for resourceful Kiwis of all ages to create their own stand-alone interactive advent calendar.
Based at Re:Maker Space at Our Place in Willow St, the workshops will be run on Wednesday evenings, Saturdays and at any other time that groups of people can come together with Sandra and other volunteer tutors.
The advent calendar consists of a wooden tree with 24 sewn bags hanging from the branches, each one numbered.
"People can come in and make the bags, make the tree, or make both. Or order a finished advent tree," says Sandra.
"They can learn to sew and make the tree with wood. Bring the kids."
Sandra is an art teacher at Matua Primary School and is using space in one of the Our Place containers for woodwork projects.
She is a kinetic artist whose work has been shown in international exhibitions. She repurposes found materials to create both conceptual and practical art pieces.
She is keen for people to learn fun and creative ways to change wastefulness into resourcefulness and give new life to resources previously seen as waste.
She is also passionate about working with families and creating collaborative and interactive artworks that are accessible to people of all ages.
There is a minimum of four people for each workshop, and with more participants Sandra will bring in more volunteer tutors to help.
All materials are provided, as well as tools, sewing machines and support.
"It's all off-cuts," says Sandra.
"They can choose their fabric. There is tonnes of fabric. And they can choose their favourite colours."
The Wednesday night workshops run from 5.30pm – 7pm and need to be pre-booked.
"If you have a minimum of four people you can ring in and say: 'I'd like to have a workshop with my friends, we'd each like to make one, can we do it another night?'.".
"And then I can arrange it," says Sandra.
Sandra estimates the tree takes about 50 minutes to make, with extra time needed to sew the individual bags.
"You can finish it at home. Or if you start here at the workshop and if you can't finish it, you can come back and use the sewing machine.
Other workshops at Re:Maker include a fibre artist using textiles, a fashion designer teaching mending and converting men's business shirts into women's blouses, and workshops on paper pulp, body butters, lip balms, candle making, woodworking, natural cleaning products and composting.
To register for the workshop people can contact Sandra on: info@remakerspace.co.nz or phone Re:Maker Space on: 027 222 9403.
More on SunLive...