A yarn with Tauranga knitting royalty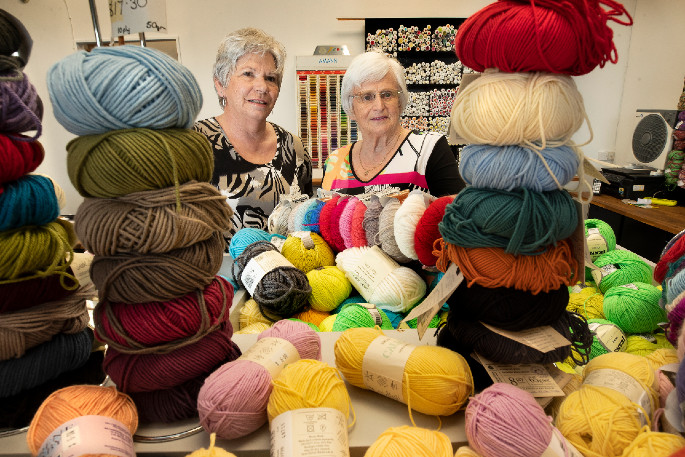 You don't see an awful lot of bikers wearing a hand knitted jumper these days - even if it does have the iconic Harley Davidson logo and name emblazoned over it.
If you do spot one though, he quite possibly had it made for him by the team at Tauranga Knitting Centre in 11th Avenue.
Just such a jersey is one of the more unusual customer requests retiring owner Lynette Lauder has been asked to fill during her 29 years at the shop.
The customer even kindly supplied the design on graph paper, making the job that much easier for the knitter who was asked to complete his order.
Lynette is retiring after almost three decades in the Tauranga knitting trade. Before that she worked for Bernina for 16 years.
She learned to knit as a seven-year-old, under the watchful eye of her mother Cathy Bracefield who didn't believe in starting her daughter off on peggy squares.
It was straight into knitting jerseys - the first of which was a plain patterned teal blue number, as Lynette recalls.
And there was no resting on her laurels after that initial success either.
Her mum upped the stakes again and by the third jersey her young daughter had mastered the tricky cable pattern which involves dropping stitches, wrapping yarn around them, and re-attaching them again.
For the non-knitters out there, there isn't much room for error in those kind of designs. They're not for the faint of heart.
"My mother was a great knitter and she believed that I should be as well," Lynette says.
Her mum's plan worked perfectly because Lynette's now one of those expert knitters who can whip up a jumper while not taking her eyes off the television.
If you're inclined to break out in a rash just thinking about the prickly wool jerseys great aunt Berta used to make, you can relax. Wool and knitting yarns have come a long way over the years with much more variety; not just in colours but textures too.
"It's an incredible time, there's just so much choice. The merino is really soft," Lynette says.
It may not be cheaper to knit nowadays than in years gone by, Lynette says. But that's not the reason people do it.
"People who don't knit just don't realise how much work goes into it."
"You knit because you want something different."
While she may continue to work at the shop one or two days a week for the new owners Annette and Graham Howard, Lynette's says she's going to going to spend more time playing bridge, and learn how to line dance.
Graham and Annette want to continue Lynette's great service from the newly renovated premises and invite both seasoned and would-be knitters to come along and check out the range of latest yarns and products.
More on SunLive...