Montessori Markets uniting Tauranga community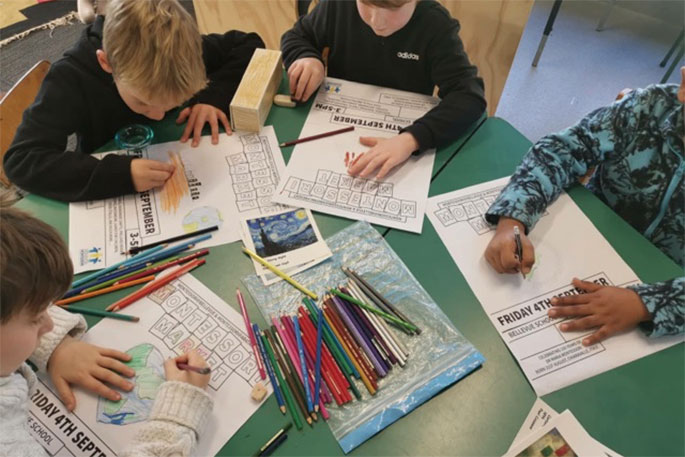 If this year has taught us anything, it's that nothing can ever replace human connection.
Feeling a sense of community has always been a cornerstone of the Montessori education ethos but after being starved of that connection during lockdown, there is a genuine thirst to be a part of something, to be involved.
The Tauranga Montessori Education Trust has felt that drive from its community, as they plan their inaugural Montessori Markets on November 27 to celebrate the education system's founder, Dr Maria Montessori's 150th birthday.
They have focussed their collective energy and enthusiasm into putting on something they hope will become a fixture in the BOP's local calendar.
After being one of the many events forced to postpone earlier in the year, the Montessori Markets have been reinstated for Friday.
Executive Officer and TMET Trustee Leanna Mitchell says Montessori students at both Bellevue and Arataki schools - as well as the multiple preschools in the area - love having a practical outlet for their work during the year and the teaching staff have seen a visible sense of inspiration in the process.
"They are absolutely fizzing with what they're learning, following patterns, cutting out fabric and realising that from something small, you can create something incredible.
"A lot of the ideas have come from the children, they're really extending themselves and beginning to realise that anything can be possible."
The whole process has been gratifyingly inclusive and uniting, with families finding ways to be involved by gifting their time or resources.
After putting the call out to the community, so many skills and talents have come out of the woodwork (ironically, including woodwork) with parents and grandparents coming into class to share their knowledge in the arts and crafts being created for the event.
"All of the materials - hard and soft - are upcycled. We've really made a big effort not to buy anything new, it's been donated to us from factories and different outlets. The children are making incredible little hats and the wooden items they're making like board games are quite amazing.
"The senior children have been making (Korean delicacy) kimchi, we've been taking them to the Asian market to get the ingredients. We're getting to open everyone's eyes and expose them to new cultures which has been brilliant."
Everyone is playing their part, from the biggest child to the smallest.
"We've reached out to our preschool community and ask them how they would like to be involved," Leanna explains.
"For example, Montessori at Otumoetai are replanting peace lilies and are going to bring them up on the day - the other preschools will be involved in some way."
It's not just about encouraging the physical creation process, the markets are also an opportunity to celebrate the childrens' creativity and grow their confidence with dedicated space for busking.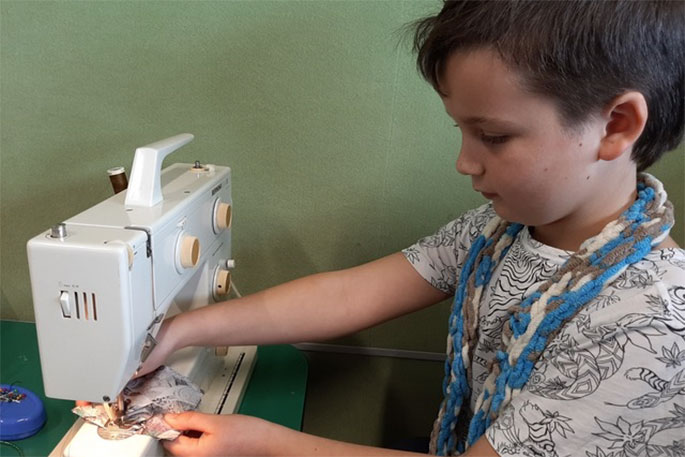 A student working on sewing project.
"For any children who feel they've got a skill - be it playing the violin, doing cartwheels, bringing a dog in that can do tricks - there will be a stage set up and children will have a slot to perform their special skills."
Leanna describes the money raised from the event as a byproduct rather than the goal - but just like with their upcycling mentality, it will be put to good use.
The children were asked how they wanted to use the funds and pitched a range of big-hearted ideas like a soup kitchen for the homeless or a hostel on school grounds - but within the realms of practicality, something fitting is being planned.
"We've been talking about creating a peace garden to celebrate the peace aspect of Montessori, given Maria Montessori is peace education at its absolute core. We have a grandfather in our community who is a chainsaw artist, he's going to create a wooden seat, trees, different things, we're really leaving it up to the children with what it is what it's going to look like - working with our principal Melissa (Nelson) to make sure its fit for purpose inside the Bellevue school grounds."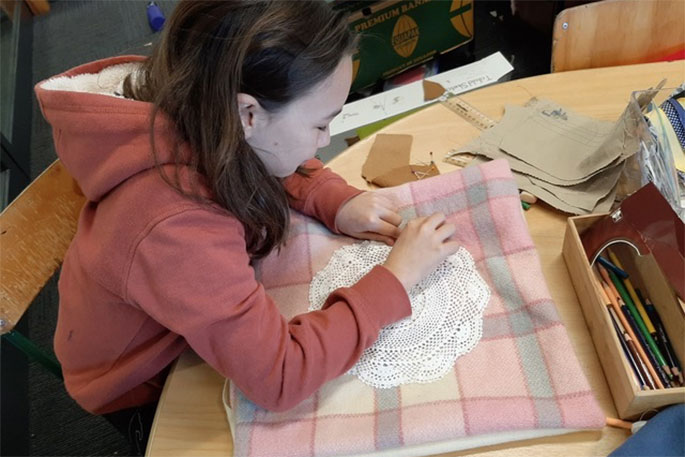 Students have been a hive of activity ahead of the market.
COVID-19 may have reduced the lead-in time for the markets but Leanna says the response to putting together has typified the Montessori spirit.
"I think people are looking for more than just a school, we're looking for a community school, where we can feel involved, we can contribute and actually be a part of, not just a pick up and a drop off."
The opportunity to highlight to the wider community what Montessori has to offer also excites Leanna, the board, teaching staff and students alike.
"I hope the markets create a real buzz around Montessori in the Bay, who we are, what we do. People can come in to have a look at our set up, meet the teachers and see our amazing children manning the stalls as well as the incredible workmanship that has gone into the things they're producing.
"Hopefully we can open peoples' eyes to the fact that Montessori Primary is an option for families because I find that many don't realise Montessori Primary exists and if they do, they think it's something entirely different to how it is in reality so it's a great way of showcasing what we have to offer."
The Inaugural Montessori Markets are on November 27, 3-5pm at Bellevue School, 20 Princess Street Tauranga.
All are welcome.
-Story by Sam and Mercedes Ackerman.
More on SunLive...