Stormy Tasman Sea low to cross NZ this week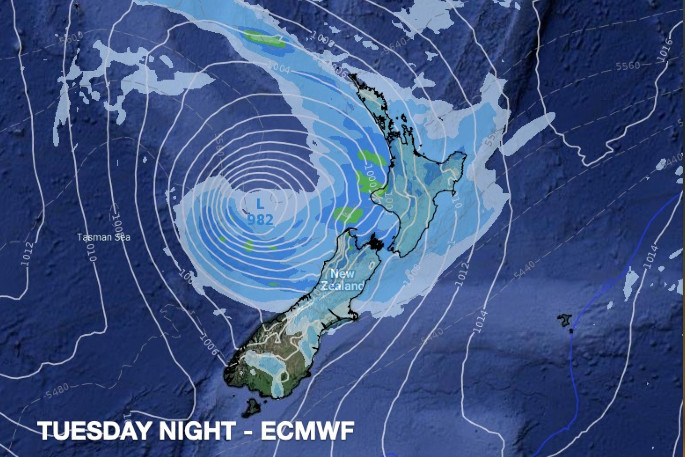 A Tasman Sea low is likely to briefly reach storm criteria in the Tasman Sea this week before partially falling apart as it moves across New Zealand mid-week.
WeatherWatch.co.nz says that at sea on Tuesday the low will likely have gale force winds wrapped around the centre of it - but as it interacts with New Zealand it will lose wind speed and start to weaken.
The low is expected to dump some heavy rain into parts of the country, however areas that need it most - like Auckland - may not see great rainfall totals compared to other areas further south.
"Still, the rain will again be helpful in our largest city which has had water restrictions in force since May," says a WeatherWatch spokesperson.
"This low matches what we said in our latest Climate/Monthly outlook for November...that La Nina would see an uptick in wet weather events for the country, but it may not be enough to help everyone.
"For Wellington the run of cloudy weather continues with the cloud data in our Hourly forecasts at both WeatherWatch.co.nz and RuralWeather.co.nz showing overcast or mainly cloudy skies for a number of days this coming week."
While this low may not bring gales at first to Wellington, it may leave a sting in its tail with a burst of strong to gale southerlies later this week and into the weekend, says WeatherWatch.
"This low is likely to trigger rainfall warnings across parts of both islands - and some wind warnings too, in the days ahead."
More on SunLive...