Fresh coat of paint for CCS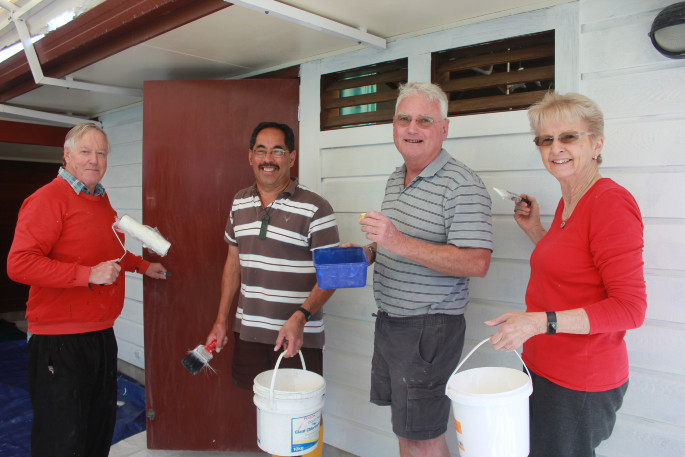 A fresh coat of paint has transformed the CCS Disability Action Bay of Plenty swimming pool changing sheds in 14th Ave thanks to the efforts of hardworking volunteers from the Tauranga Rotary club.
"We won $1000 worth of vouchers from Resene and Neighbourly," says CCS Disability Action Midland Regional Administration and Service Support Manager Cheryl Mercer.
"They have community awards and asked people to nominate an organisation that needed refreshing with paint, so I sent in photos of our changing sheds.
"We couldn't afford to pay anyone to do the painting. Tauranga Rotary contacted us and some lovely volunteers came in and painted the swim school sheds for us."
Tauranga Rotary club members Russell Turner, Mike Savage, Sheena Spittles, Don Pilbrow, Ross Ogle and Bev Tagg scrubbed, cleaned, sanded and painted, tackling some gardening in between. Tricia Ogle boosted them along with a morning tea of fresh baked pikelets.
"We expected to have this project completed earlier in the year but Covid-19 lockdown conditions prevented us starting," says Bev.
"We are very pleased to now be able to pick up our paint brushes and make this happen. The spring weather played in our favour, with fine days and
cool breezes."
The relationship between Rotary and CCS Disability Action goes back 85 years with the disabilities service organisation being founded nationally at a Rotary conference in Timaru in 1935.
CCS Disability Action Bay of Plenty has been providing services to people with disabilities from the East Cape to Waihi Beach, engaging with up to 400-500 people per year. About 20-25 per cent of people enrolled in the swim school have been people with disabilities.
"We are lucky in that we are the only branch in the country that has a pool," says Cheryl.
The new coats of paint have turned the walls from brown and maroon to a pale grey and aqua.
"Our thanks to our members for their time and efforts, not to mention the fun of being together to do it," says Bev.
"It's refreshed and lightened it, brightened it up. It looks fantastic," says Cheryl. "It's nice to get this support from local community, and nice knowing all this work we put in is worth it."
More on SunLive...