Festival brings blues with the greens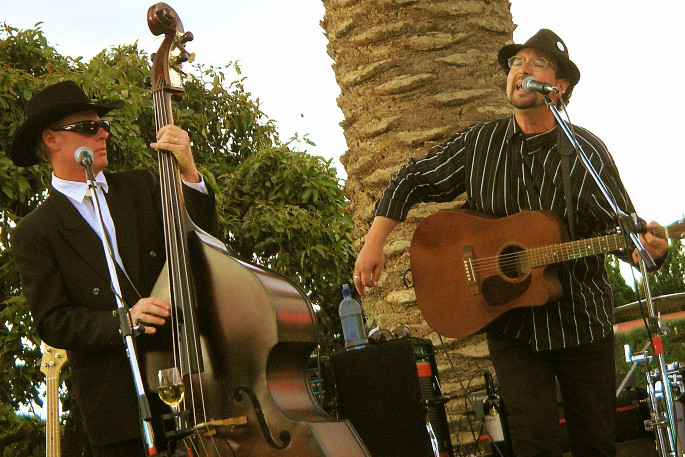 Derek Jacombs doesn't answer the phone on Mondays so I rang him on Tuesday.
I was keen to know what days he and fellow musician Nigel Masters were planning to play at Bloom in the Bay, the festival hub of the 2020 Bay of Plenty Garden & Art Festival.
Together, the duo are The Self-Righteous Brothers, a play on words from the mind of Nigel who enjoys the odd bit of droll amusement.
"We're doing four days in a row, Thursday, Friday, Saturday and Sunday afternoons all at different times. "Late afternoons, mainly around 5pm, for about an hour. Some of the times varying," says Derek.
Brilliant! It means that garden and art trail lovers can grab a morning coffee at the festival hub at Tauranga Racecourse before heading off to view fabulous gardens and art on the trail around the bay, returning later to unwind to live music.
"Nigel and I will do a couple of sets and then we've got Kokomo Unplugged for a couple of sets."
It's been a few years since The Self-Righteous Brothers last played at the festival.
"It's a lovely event. We're always keen to take the guitars outside into nature."
With Kokomo, the pair had a new single out on November 1 which they will be playing at the festival. It's also available on Spotify, YouTube and all digital platforms.
They have recorded two Self-Righteous Brothers albums which will both be available for sale at the festival.
"King of the Pun, Nigel has named both our albums too," says Derek. "Our first album in 2006 was called RustySwingFeel. The second album released in 2013 was Social Fretwork which came out the same time as the film Social Network. Yes he's a bit of a smartarse, young Nigel."
I was keen to hear how The Self Righteous Brothers were formed, when they both already play in the popular band Kokomo.
"Nigel and I found we were at a lot of barbecues and parties over summer and we'd always end up playing our old favourites which were blues and country tunes. We decided we liked it so The Self-Righteous Brothers was exactly for that, to just play back porch music – you know, the music you play on your back porch during a barbecue in summer.
"And that's still it pretty much. We play anything we fancy – Bob Dylan, our own stuff, any songs that don't fit Kokomo."
Their acoustic side project has turned into a secret success of its own with the Kokomo guys enjoying getting back to the old acoustic blues and ragtime music that first interested them. They are both on vocals with Derek also playing acoustic guitar and Nigel on upright bass.
"We've worked in Nigel's studio for years now and fortunately work very well together. As long as Nigel agrees with me, everything is fine."
Their music has been described as comfort food for the ears, offering an eclectic mix of blues, folk, country, jazz, Americana and anything else that takes their fancy, ranging from Bessie Smith to Brian Eno and their own songs.
"We have a slate of songs lined up and will be releasing a song a month until Easter and then release an album at Easter," says Derek.
This musical 'threat', or 'fret' as Nigel may call it, is something that will certainly please those festival goers who love a bit of live blues with their live garden greens.
For more information, visit: www.facebook.com/KOKOMO.NZblues and: www.adebttopleasure.blogspot.com
More on SunLive...