Economic rebound evident in the Western Bay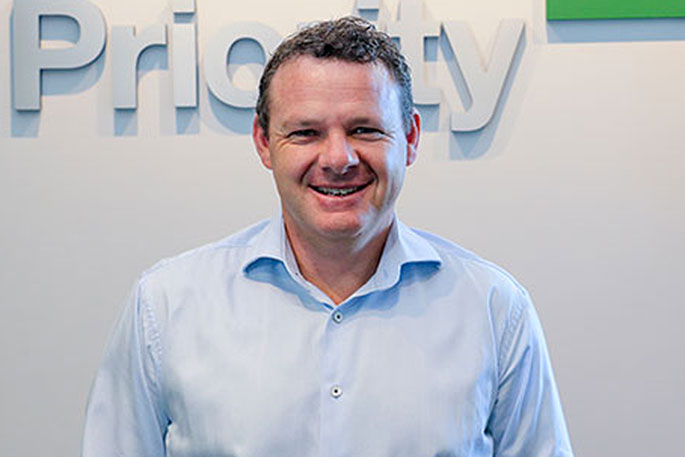 A Western Bay of Plenty economic development organisation says the region is performing better than New Zealand as a whole, following the level 4 lockdown.
GDP forecasts were dire after lockdown, expected to reach historical lows, says a statement from Priority One.
"We've not seen those predictions come true in the Western Bay, with GDP dropping only -1 per cent in the year ended June, and only -1.7 per cent in September.
"We are performing better than New Zealand as a whole, which fell -2.1 per cent annually in June and -3.3 per cent in September."
Priority One says the region started with low unemployment of 3.1 per cent pre-COVID.
According to recent figures, annual unemployment is 3.7 per cent for the September year, compared to 4.4 per cent for New Zealand, and local Jobseeker Support numbers have started to reduce in September and October, underpinning the low unemployment rate. Online job ads have been rising steadily since June.
"Consumer spending is around 60 per cent of an economy.
"Annual spending in the Western Bay is down only -0.8 per cent, meaning the post-lockdown boost has almost made up for bottoming out in April/May.
"This is despite Auckland lockdown in August, where we saw a slight dip in spending due to less out of town visitors."
Priority One says the Western Bay is not so dependent on international tourism either, so total tourism spend is down only -6.7 per cent, much lower than New Zealand at -16.7 per cent."
Traffic flows are down -8.0 per cent, reflected in less traffic congestion around Tauranga City.
Heavy traffic was up 15 per cent on February levels in October, as a measure of commercial freight movements returning to higher than pre-lockdown levels.
Health enrolments are up 3.5 per cent annually, as a proxy of population growth, showing more people moving into the area, reflected also in revised population estimates indicating 208,000 people now live in the Western Bay.
"Multiple factors have come together to drive house prices up – money not being spent on international travel, very low deposit interest rates meaning no returns to be made, and people wanting to improve their housing, or add to their investments.
"Tauranga City has record median house prices for the last three months running, reaching over $800,000 in October at $810,000. Western Bay of Plenty District is not far behind at $730,000.
"Paired with rising house prices, residential consents have been sitting at 1-2 per cent lower than the previous annual average for the last three quarters, likely not due to lack of demand, but rather shortage of land. Non-residential consents value is -13.8 per cent lower for September, again likely a reflection of limited industrial and commercial land for new development."
Priority One has been tracking economic measures monthly since lockdown in April, and has seen early signs of job losses in lockdown and business pain six months ago, being steadily superseded by a rebound in most economic measures.
"We are confident the Western Bay economy is in good shape," says Chief Executive Nigel Tutt.
"We were strong going in to COVID, and our businesses have shown resilience and ability to adjust to change quickly.
"Consumers are spending, and people are largely employed. For now, the Western Bay is doing well."

Annual percentage change = September quarter 2020 compared to September quarter 2019
Western Bay New Zealand
GDP ↓ 1.7% ↓ 3.3%
Unemployment rate 3.7% 4.4%
Consumer spending ↓ 0.8% ↓ 2.7%
Tourism spending ↓ 6.7% ↓16.5%
Traffic flow ↓ 8.0% ↓ 10.5%
Health enrolments ↑ 3.5% ↑ 2.3%
Residential consents ↓ 2.2% ↑ 3.5%
Non-residential consents ↓13.8% ↓ 7.6%
House prices ↑ 6.0% ↑ 8.0%
House sales ↑ 3.6% ↑ 1.1%
Car registrations ↓10.6% ↓22.9%
Commercial vehicle registrations ↓20.9% ↓26.1%
Jobseeker support recipients ↑38.4% ↑27.3%
Source: Infometrics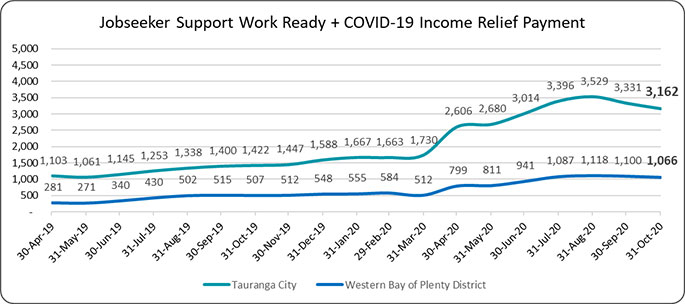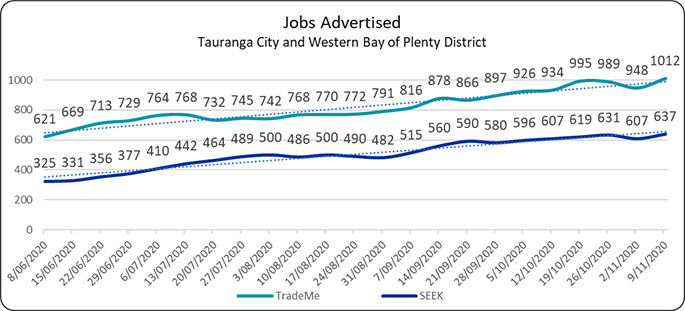 More on SunLive...