Mount swimmer's close encounter with big shark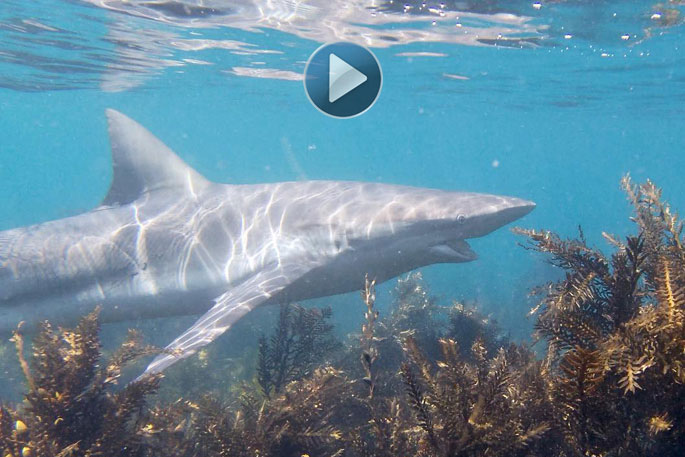 A Mount Maunganui ocean swimmer has ticked another epic marine encounter off his bucket list after getting up close and personal with an eight-foot bronze whaler shark.
Steven Morris from the Seamen Ocean Swim Squad was out for his usual daily ocean swim on Tuesday when he spotted a large shark "cruising" through the water.
He was swimming near the rocks out from Moturiki Island with his buddy Richard Dent.
"It was pretty epic, there was just a nice big bronze whaler shark cruising around. The water was clear, so we could see it perfectly. It was obviously in a very chilled mood."
Steven and Richard made the call to stay near the rocks, and swim round with the bronze whaler.
"We were sort of hanging around the set of rocks and at one point it literally started swimming right below us, I could have reached down and touched it. That was a little unnerving.
"But really it was just a chilled out, big and beautiful fish."
He reckons the shark was about 10 feet long.
"It was definitely a lot longer than me, and I am six foot."
Steven had another memorable ocean experience last week when he came across a pod of Bottlenose Dolphins in a similar spot near Moturiki Island.
Steven and other Seamen Ocean Swim Squad members also came face-to-face with a pod of orca whales back in 2017.
"Swimming with marine life is great. It's a form of relaxation, fun and mental health maintenance. The exercise is great as well."
When asked if he was scared when swimming with the shark on Tuesday, Steven told SunLive that he wasn't worried in this scenario.
"Most people would have been fearful because it was quite a big shark, but I have been ocean-swimming for so long I know there was nothing really to be worried about.
"You just have to respect them and be careful."
Steven plans to head out for a swim to the same spot this afternoon.
According to University of Waikato's Melissa Kellett, it is not uncommon for this species to be spotted within coastal areas during the summer months.
Melissa is doing her post-graduate research on bronze whaler sharks.
"They seem to come back into these inshore areas from around October until May which is why sightings and interactions with fishermen are common throughout the summer
"They are likely being drawn in by more abundant prey sources and warmer, more consistent water temperatures during the summer season."
The bronze whaler shark in Steven's footage is likely a female because of the absence of claspers at the pelvic fins.
She says generally bronze whalers are not dangerous unless provoked and in most cases are safe to swim with.
"Sharks are not the man-eating monsters movies such as Jaws have made them out to be. But they are top predators within their environment and that needs to be respected."
She says the shark in the footage seemed to hang around for a little while but did not show any aggressive behaviour.
"Bronze whalers are known to be attracted to spearfishermen as they can get an easy meal, pinching the injured fish from the end of the lines.
"This shark may have associated the swimmers with spearfishermen who regularly visit this area to hunt, and the shark was simply looking for a captured fish."
She says if people find themselves in the water with a shark they should respect its space, and slowly remove themselves from the water.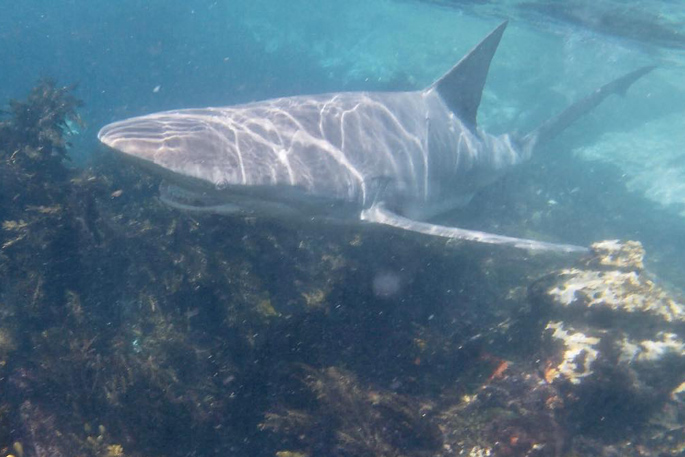 More on SunLive...