Tauranga Council puts off report decision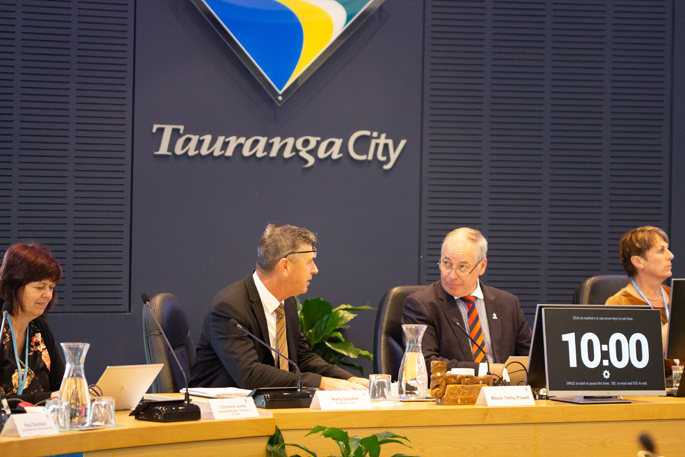 A report discussing issues of poor behaviour, lack of trust and inability to work together among Tauranga City Council has received criticism from some elected members.
The Review and Observer Team appointed to keep an eye on Tauranga City Councillors have recommended in a report that a Crown manager and observer be appointed to help address the "behaviour and performance issues".
The team is chaired by Peter Winder, who says their work covers fundamental issues that are "really important to council and the future of this city".
The observer team was appointed back in August in an effort to resolve ongoing elected member relationship issues.
The decision followed an emergency meeting to discuss the report from the Department of Internal Affairs. Read more here.
"Tauranga City Council is a really significant undertaking, it serves New Zealand's fifth largest and fastest-growing city," says Winder.
"Our sense is that collectively the understanding of governance roles across the current council is limited."
The team has observed a significant breakdown in trust between elected members and a lack of collective responsibility to deal with poor behaviour, says Winder at a council meeting yesterday.
Governance training for elected members, a revised protocol for elected members asking for information and establishing a more effective and better resourced office for the Mayor were some of the other recommendations included in the report.
But councillor Steve Morris asked Winder if the report released Monday afternoon was a draft, claiming it had more than 70 factual, spelling and syntax errors.
"At least 30 paragraphs factual errors, spelling errors, syntax errors and random words inserted. Is this a draft report?
"It was provided to us at 4.15pm on Monday and suggests some pretty significant changes to our democracy."
Winder told Morris that it was the team's intention for this to be a final report.
Councillor John Robson then moved a motion for the decision to be held off until Friday.
Councillors Morris, Dawn Kiddie, Andrew Hollis, Kelvin Clout and Bill Grainger were in favour of this motion.
It was opposed by councillors Heidi Hughes, Larry Baldock, Tina Salisbury and Mayor Tenby Powell.
More on SunLive...