Christmas vibe coming alive in Tauranga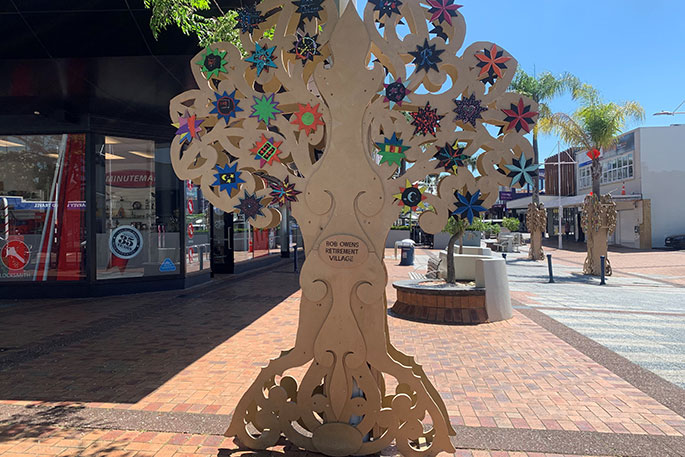 The Christmas festive spirit has started to permeate Tauranga City centre over the last few days, with the appearance of giant Christmas crackers, boxes, candy canes and Christmas trees.
Around Red Square and across at Edgewater Fan on the Tauranga waterfront, large wooden trees with painted baubles have been put up.
These plywood pohutukawa trees, designed by Ashlei Luckman-Taupaki, are being re-decorated by local community groups, and will be covered with hundreds of individually designed Christmas baubles.
Many of the groups have been meeting over the last few weeks to paint their baubles, often with a theme.
For example, the Rotary Club of Tauranga Sunrise went with a sunrise theme.
The bauble decorations giving downtown Tauranga a festive art buzz have been organised by Tanya Trass from The Incubator.
This is the fourth year that a community and arts-focused Christmas vibe has been brought to the Tauranga CBD.
Tauranga City Council and Downtown Tauranga will also be installing the giant advent calendar in Red Square for everyone to enjoy.
Similar to the traditional cardboard advent calendar, each window will have a unique display, with one window being opened daily from December 1.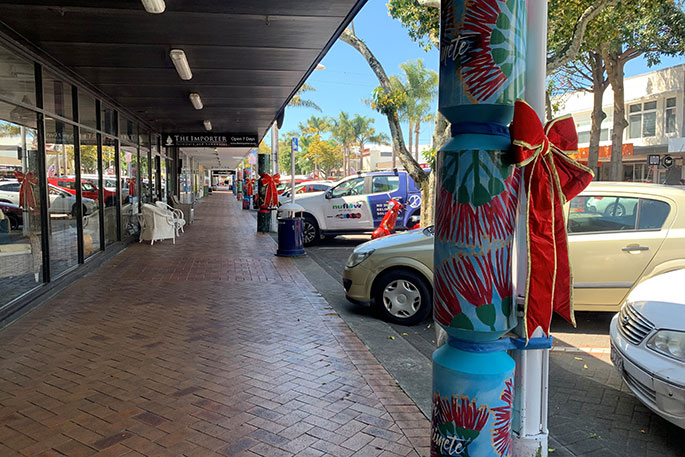 Large Christmas crackers in Grey St.
The new installation replaces the traditional Christmas Parade.
Last week, Mainstreet Tauranga announced The Trustpower Toi Tauranga Christmas Art Festival that will feature a major light installation and community performances and is expected to be a major drawcard for the city centre.
Mainstreet Tauranga Spokesperson Sally Cooke says the festival offers something for everyone.
"We are transforming spaces into vibrant, inspiring places. We want to delight and surprise people with new offerings in our city centre and by doing so give them another reason to come and then enjoy our retail and hospitality offerings while they're here.
"The Trustpower Toi Tauranga Festival is about celebrating our art, light, culture and community.
"It's about celebrating our care and respect for our environment, our community and our city and ultimately, it's about celebrating what makes us Kiwi."
There are more events being added to the festival calendar each week.
For the full festival line-up visit www.downtowntauranga.co.nz
More on SunLive...