Judging emerging artists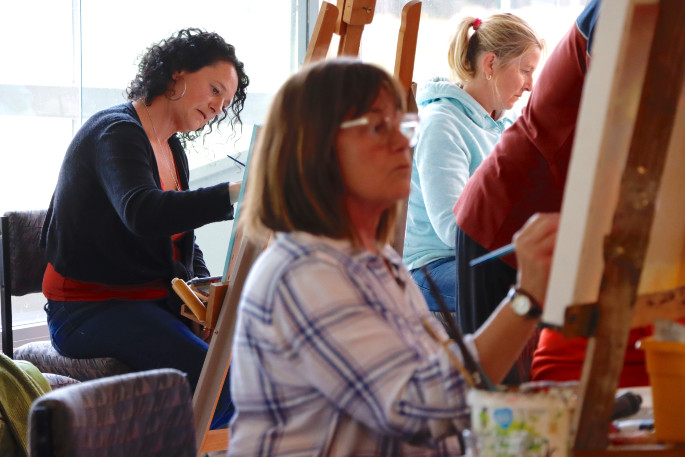 The Weekend Sun Emerging Artist Award is a much anticipated and new addition to this year's Bay of Plenty Garden & Art Festival.
Judges for the award are artist Rob McGregor, Rosalie Liddle Crawford from The Weekend Sun, and the Bay of Plenty Garden & Art Festival Art Committee members – Marilyn Cleland, Murray Clode, Olivia Sheehan and Marc Anderson.
"We are ramping up the arts component in the festival and the emerging artists programme has been a great way to give some already talented and enthusiastic artists more techniques to add to what they already do," says Murray, who is also the chair of the Bay of Plenty Garden & Art Festival board of trustees.
"These artists will enrich the art in the festival in a really valuable way and real way. We're looking forward to the hard task of judging."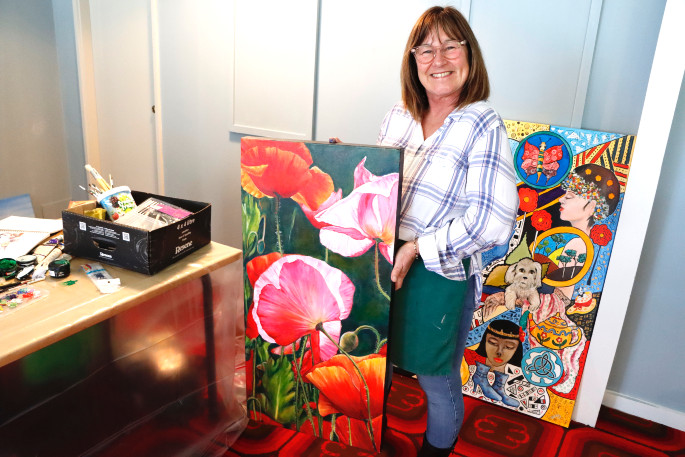 Sally Ward is one of the 14 finalists in The Weekend Sun Emerging Artist Award. Photo: Daniel Hines
Fellow judge Olivia Sheehan has been part of the festival team for the last two festivals.
"She is the artists' coordinator and works on our design team," says Bay of Plenty Garden & Art Festival director Marc Anderson. "She also designs and makes hand-made leather goods for Forest Lane.
"Marilyn Cleland is a creative, and former trustee of the board. Over the years she has been involved in the festival both as a board member and art committee member," says Marc.
"The Weekend Sun Emerging Artist Award is a first time initiative to recognize and reward new and exciting talent. Workshops were attended by selected artists and an overall winner will be chosen. The exposure and recognition is of great value to both the artist and festival."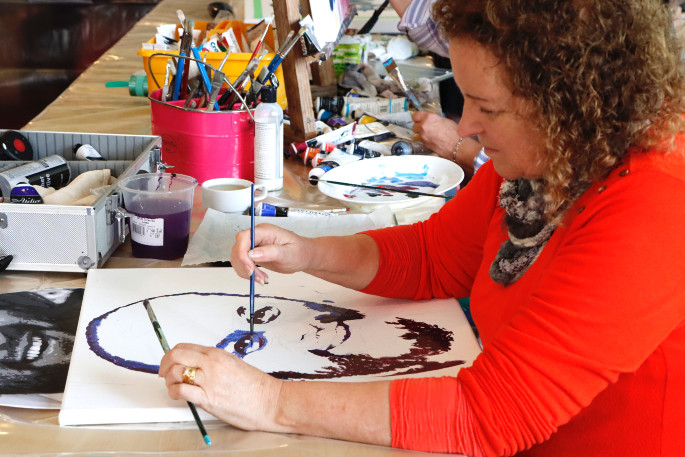 One of The Weekend Sun Emerging Artist Award finalists Marilyn Muirhead at one of the art workshops. Photo: Daniel Hines.
Thirteen of the emerging artists selected as finalists spent time with artist Rob McGregor over two workshops held at Tauranga Racecourse. These are Sharn Lambert, Anna Price, Sandy Clarke, Trish Coates, Marilyn Muirhead, Vicki Fraser, Sally Ward, Carmen Hutcheson, Vanessa Ryder, Lisa Stowell, Deidre Callaghan, Myra Nelson and Diana Spence.
Imogen Munns, a youth emerging artist, enjoyed four art sessions with Jacqui van den Berg who along with Rob have been festival artists.
"Judging art is a subjective choice," says Rob, who likens artists' different styles and choice of subject matter and materials to how different opera and country and western singers' voices sound.
"In the same way, there won't be a 'best'. It'll be a matter of looking for impact, consistency in style, application of media, and whether there is unity, focus, contrast, variety and balance. And awarding a lucky one."
One of the paintings at one of the workshops. Photo: Daniel Hines
As a judge representing The Weekend Sun, Rosalie Liddle Crawford has also run two art galleries in the Hutt Valley, coordinated an arts festival and is a painter.
"I tend to agree with Rob on art being so subjective," says Rosalie. "One person's favourite piece may not resonate with someone else. I visited the artists at their first workshop, so will be keen to see how their work has evolved since then, as the award is for an 'emerging' artist. I tend to take time absorbing a piece, soaking in the composition and gaining a sense of whether there is a feeling, emotion or idea that connects with me, as well as considering the skill and technique evident. So I'm very open to abstract through to representational work."
"It is not easy for artists to have their work seen, if they aren't represented in galleries," says Rob. "This sponsorship by The Weekend Sun allows these relatively unknown but good artists to be seen by the public.
"I expect paintings will be excellent value. The artists are not yet well-known, and therefore buyers have an excellent opportunity to own a very good piece at a good price."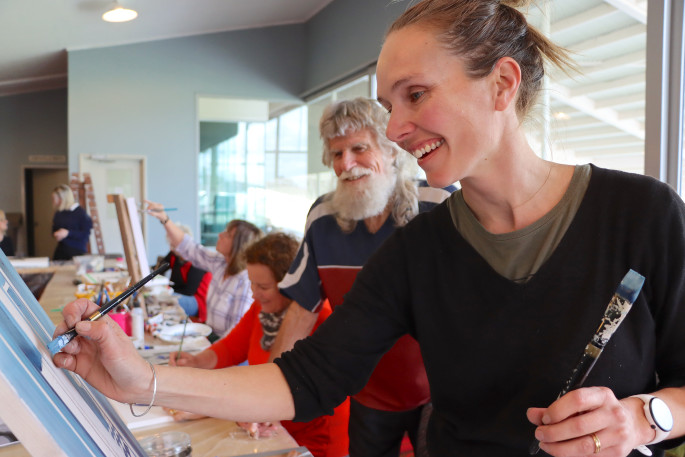 Emerging artist Vicki Fraser being guided by experienced artist Rob McGregor. Photo: Daniel Hines
One of the artists will be awarded 'The Weekend Sun's Emerging Artist' award at the Garden & Art Festival, and all of the finalists will have work exhibited at Bloom in the Bay, which will be the festival hub at the Tauranga Racecourse.
The Bay of Plenty Garden & Art Festival runs from November 19-22. Access to Bloom in the Bay is free with a festival pass.
Get your tickets now from the 2020 Garden & Art Trail sponsor Palmers Bethlehem, or on-line at eventfinda.co.nz or gardenandartfestival.co.nz. Tickets also available at Tauranga i-SITE, Decor Garden World, Pacifica Home and Garden Store, Te Puke Florists and Katikati Information Centre.
More on SunLive...