Art meets nature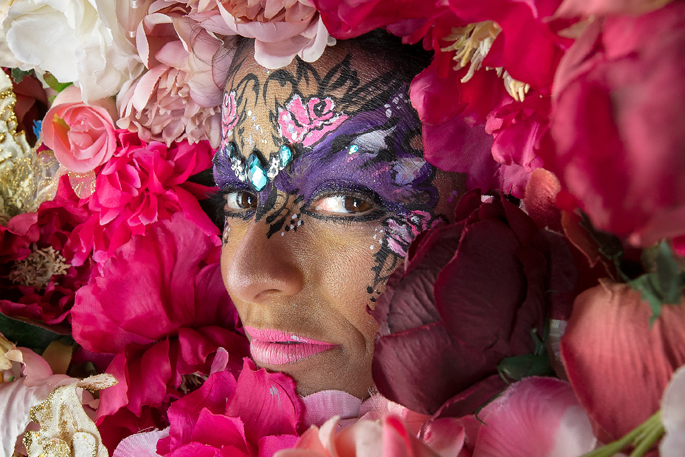 Special effects makeup artist and body painter Sandi Cutts is becoming increasingly recognised for her impressive work painting bodies for both film and events.
"I quite like painting dancers and theatrical people because they know how to project the actual character," says Sandi, who painted live models for Tauranga's Fringe Festival last year and the recent bi-monthly Incubator's Test Tube event.
At the Bay of Plenty Garden & Art Festival hub at Tauranga Racecourse, she will use a mannequin to create an organic art piece.
"It's a bit of a collab between Emma Edworthy and myself. She made the original structure for the costume and I've been lovingly recreating it," says Sandi.
"It's made from organic materials like leaves, bark, lichen, dried mushrooms and even has a bird's nest in it. As this is for the Garden & Art Festival, I thought this would be the best one to present.
"The materials in the costume are fragile and I've been restoring it and adding to it – with pheasant feathers, pinecones and other materials."
Sandi recently had a display of painted mannequins in Downtown Tauranga and enjoys working with live models.
"It's a niche market. It's beneficial for events and corporate gigs to have someone who does body painting there because it does create quite a buzz."
For The Weekend Sun's cover, Sandi painted Camila Sanches' face, surrounding it with flowers to highlight the upcoming Garden & Art Festival. She has also painted whole bodies for films and festivals, using prosthetics to create tigers, ducks, characters like The Grinch and Wonder Woman and transferring the imagery in large paintings into body art so that dancers seem to visually merge with the painting behind them.
The Bay of Plenty Garden & Art Festival runs from November 19-22. Access to Bloom in the Bay is free with a festival pass.
Get your tickets now from the 2020 Garden & Art Trail sponsor Palmers Bethlehem, or online at: www.eventfinda.co.nz or: www.gardenandartfestival.co.nz. Tickets also available at Tauranga i-SITE, Decor Garden World, Pacifica Home and Garden Store, Te Puke Florists and Katikati Information Centre.
More on SunLive...