Rob McGregor holds rare retrospective exhibition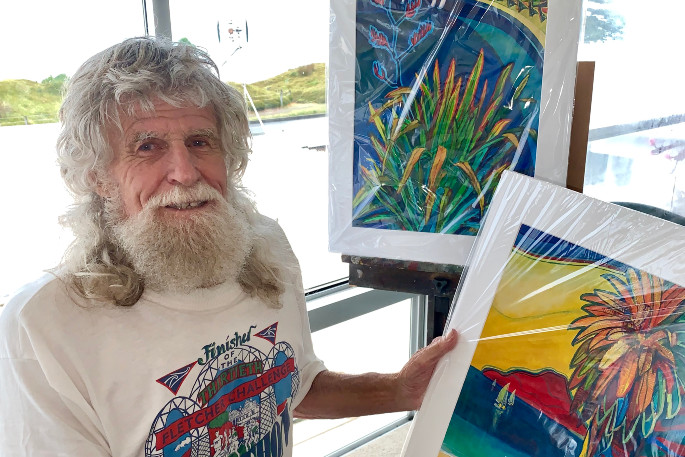 The public will be given a rare treat this month as artist Rob McGregor plans to hold his first ever retrospective exhibition, as part of the Bay of Plenty Garden & Art Festival. Not only will the original works be on display, but they will also be available to purchase.
This is an exceptional opportunity for art lovers and investors, as Rob's exhibition includes early paintings that have already sold thousands of copies as prints. Until now, these have been in Rob's private collection.
"My darling wife, who died of cancer last year, was aged only 57. Being 22 years younger than me, she realistically believed that I would be gone before her," says Rob.
"We had agreed to store my early works that were popular as prints; she intended to sell them when I had passed away, as income.
"However, that has changed and so they are unpacked, seeing the light-of-day after nearly 20 years and 30 of them will be for sale at Bloom in the Bay, the hub of this year's Garden & Art Festival."
Joanne Rye-McGregor and Rob happily spent 30 years together; their life at Mount Maunganui was one of their biggest creative inspirations, with Joanne writing poetry and Rob painting.
Amongst Rob's retrospective collection or work for sale will be the originals of well-known and loved prints showing coastal scenes, Volkswagen vans, pukeko, the Greek islands, landscapes, sunbathers, and people enjoying barbecues.
"The pukeko was the biggest print seller in the country for two years," says Rob.
There are some depicting the ruins at White Island, painted in about 2001.
The acrylic paintings, all dating from about 2000 are protected by wrap and mounted on card ready for framing.
Rob will also have a display of excellent quality reproductions on canvas at Bloom in the Bay, the festival hub at Tauranga Racecourse, which runs from November 19-22. These popular pieces, unavailable elsewhere, may be purchased at discount prices.
More on SunLive...