Two new community cases of COVID-19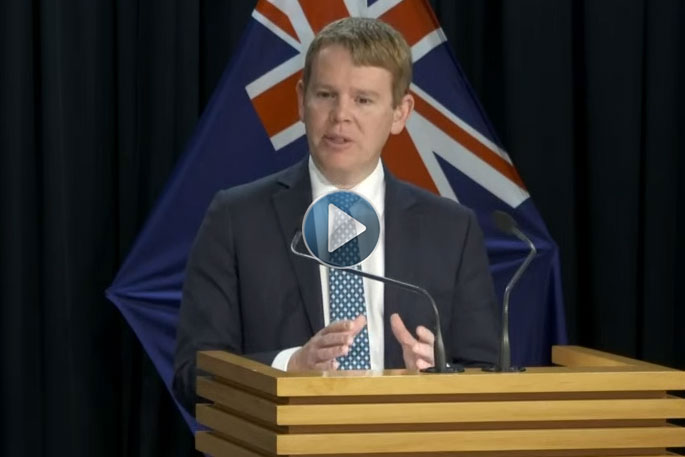 There are three new cases of COVID-19 in New Zealand today – one imported case and two in the community.
The Minister for COVID Response Chris Hipkins and Director-General of Health Dr Ashley Bloomfield provided an update on COVID-19 this afternoon.
There is one community case in Auckland that has no clear link to an isolation facility or the border, says Hipkins.
"We are in the early days of information coming through. Many of the questions that people will immediately have, we do not have answers to. So we will be undertaking a further press conferences later this afternoon around 5pm."
He says there is a plan for dealing with cases that emerge in the community, and the deployment of that plan has stamped out cases quickly before.
Dr Bloomfield says the second community case is linked to the November Quarantine Cluster.
"This case is a close contact of Case B in that cluster and tested positive on November 11 after developing symptoms.
This person has been in isolation since Saturday with other close family members.
The imported case arrived on November 9 from Los Angeles and returned a positive test around day 3. They are in quarantine.
Dr Bloomfield says the source of transmission for the Auckland community case is currently being investigated.
The case became symptomatic on Monday, November 9, and was tested late on November 10.
They went to work at A to Z Collection on High Street in Central Auckland from Monday, November 9 to Wednesday, November 11.
The positive test was confirmed this morning, and the person is being moved into quarantine facilities.
"This is a very important reminder of why anyone, with any symptoms of cold or flu, should get tested and stay home until you have the results."
He says the case lives alone and appears to have had limited community outings recently. They have not visited a supermarket during the time they may have been infectious.
The person does live alone and appears to have had limited community outings recently – they have not visited a supermarket during the period they may have been infectious. They are a student at AUT but have not visited campus since mid-October, says Dr Bloomfield.
People who may have visited the A to Z Collection store at 61 High street in Auckland, or who is a resident at or visitor to the Vincent Residency at 106 Vincent Street in central Auckland between Saturday 7 and today, 12 November is asked to get a test and isolate until they get the results.
"As usual, anyone in the Auckland region or wider New Zealand that has cold and flu symptoms should get a test," Dr Bloomfield says.
Two cases have recovered and the country now has 53 active cases and a total of 1635 confirmed cases.
Yesterday there was just one new case of COVID-19 in managed isolation.
There were no new community cases.
The case arrived on November 3 from Romania via Qatar and Australia.
They are a family member of a previous case from managed isolation and had already been transferred to the Auckland quarantine facility, says the Ministry of Health.
The West Indies men's cricket team had their training privileges denied after breaking managed isolation rules inside their Christchurch facility.
The team, here to play New Zealand's Black Caps, is in the managed isolation facility at the Chateau on the Park in Christchurch.
Following an investigation, members of the team were confirmed to have repeatedly broken managed isolation rules.
More on SunLive...