Hundreds of trout to be released into Lake McLaren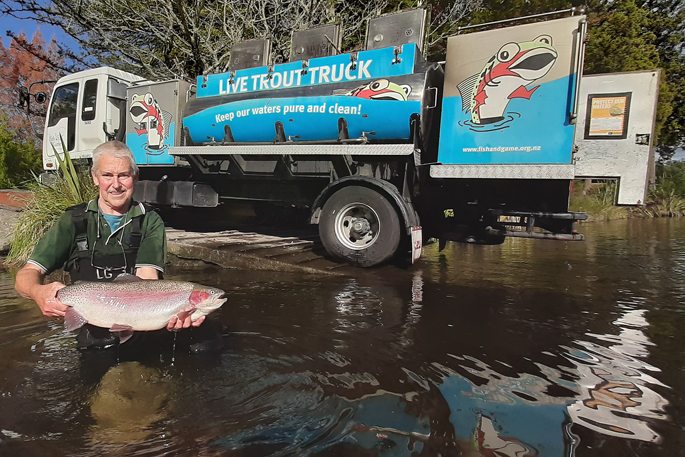 If you've ever wondered how the trout get into Lake McLaren, you can see it for yourself on Saturday.
Fish and Game Eastern Region are doing their annual release and around 1000 rainbow trout yearlings, 400 brown trout as well as some larger trophy specimens will be liberated into the lake.
Fish and Game officer Lloyd Gledhill says the release is done yearly to top up fish stocks because the survival rate of trout in the North Island Volcanic Plateau is low, at around one in a 1000 eggs.
"Success of trout spawning in this whole area is less than it is through the rest of New Zealand.
"In order to keep fishing stocks up to a level where fisherman can go and actually catch a fish we boost the numbers by putting in some from the hatchery."
He says the fine ash and pumice that makes up a lot of the stream beds in the region don't provide enough water flow so the eggs either suffocate or once fish hatch they can't make it to the water's surface.
The fish are transported from the Ngongotaha hatchery in a purpose built tanker.
Lloyd says the release is chance for people to see another part in the process.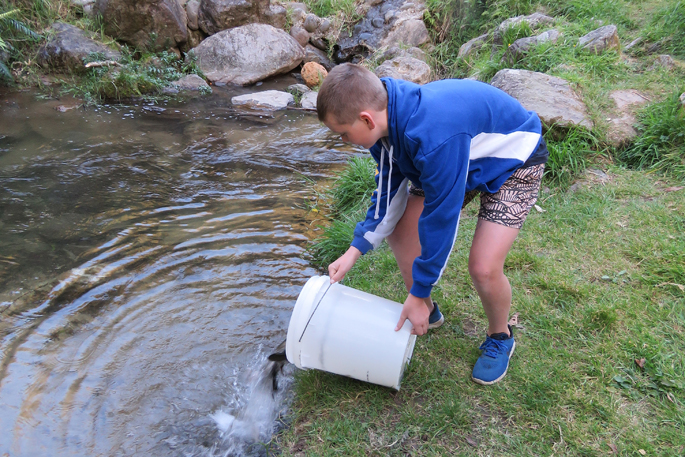 Max Jenkins releasing trout. Supplied image.
"If they're interested in angling and want a good place to go to catch fish then this is the place and this is an event which shows them one step and why there's fish there that they can go and catch.
"It used to be a good fishery and now it's actually becoming an outstanding fishery because we've started to put the slightly bigger fish in there."
He says Lake McLaren is starting to get a reputation as a good place for anglers to go.
"It's not too far from a city, has fairly safe access and varied water types and now anglers have a good chance to catch good sized fish."
Lloyd says trout were introduced to New Zealand around 150 years ago and there was an adjustment when they first arrived but a rapid balance developed in the ecosystem.
"It's in a new balance, but it's not significantly different to what it used to be.
"We had no large sports fish or large fish in fresh water apart from eels in the early days. So these guys just dropped in and they filled a habitat that was basically empty."
The release is at 11am on Saturday at the boat ramp on Lake McLaren, off McLaren Falls Road.
Lloyd says to look out for the tanker with 'Live Trout Truck' emblazoned on the side.
More on SunLive...