NZ Post prepares for 1.9m packages a week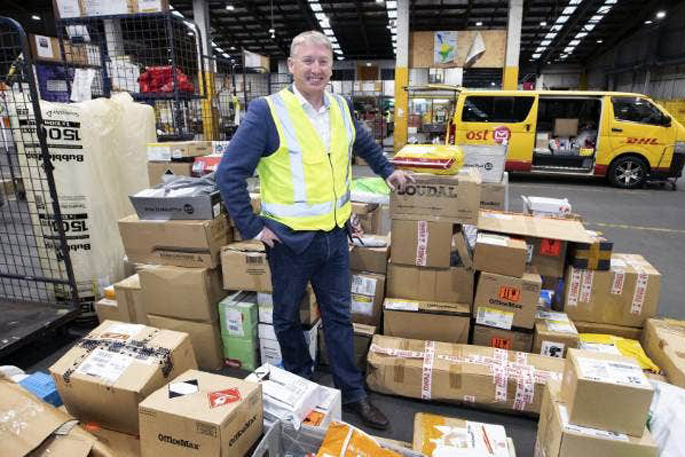 New Zealand Post workers are processing 20 per cent more packages compared with this time last year and the depots are set to get even busier, thanks to Singles' Day shopping traffic.
New Zealand Post chief executive David Walsh says an increase in online shopping as well as the restrictions stemming from COVID-19 meant that the postal service was busier than ever.
The peak demand for package deliveries is also starting earlier.
Singles' Day, on November 11, is now the beginning of New Zealand Post's Christmas rush, he says.
The "anti-Valentine's" online sales day began as a sales promotion across Aliexpress in 2009 but had since grown into an international online shopping event.
New Zealand retailers, including The Warehouse, TheMarket and Noel Leeming were offering Singles' Day related specials for online shoppers.
It's clear that New Zealand has begun to follow international shopping trends, which included Singles' Day, Black Friday, and Cyber Monday in November, ahead of shopping for Christmas throughout December, David says.
"All those things are having a real impact on people's buying habits and, in turn, on parcel deliveries," he says.
NZ Post was expected to process around 85 million parcels this year, an increase of 20 per cent on last year, says David.
Postal workers were expected to process 1.5 million parcels this week alone.
As cut-offs for Christmas deliveries began at the end of November, David expects deliveries would climb to 1.8 million or 1.9 million parcels a week.
During the peak of COVID-19, NZ Post processed 2 million packages a week.
To prepare for the busy season, NZ Post is opening three additional sites to manage surges in volumes, adding 200 more courier vans, 185 extra flights, more than 1500 extra transport runs and 350 additional processing staff, David says.
Shoppers shouldn't be surprised to see the cost of postage climb with the increasing demand, he says.
"There are fewer airlines flying and so there is less space to move parcels and that is having a real impact on cost," he says.
"While we never like to see big cost increases, unfortunately, we are just having to cope with what is happening right across the world at the moment."
First Retail Group managing director Chris Wilkinson says businesses, and postal services, should be prepared for online shopping to grow in popularity.
"The reality is that through COVID, many consumers were forced online, and they have now got past that initial barrier that may have been there, their trepidation or concern, and now they have a degree of comfort with the process," Chris says.
COVID-19, while challenging for everyone, has been useful in that it forced businesses to improve their online presence, he says.
More on SunLive...