Students take in stormwater reserve significance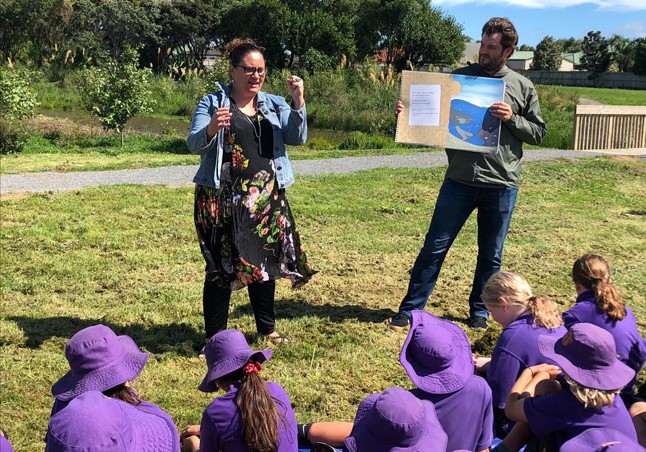 A stormwater education event has helped students understand the role reserves play in our community – both today and historically.
Last Friday Tauranga City Council and Ngā Pōtiki jointly hosted a stormwater education day at Te Ara ō Wairākei, the stormwater reserve in Pāpāmoa.
The Te Ara ō Wairākei education day saw more than two hundred students, parents and teachers from Golden Sands and Tahatai Coast School attend.
To create awareness of the role stormwater reserves play, students got to get hands on during a series of activities, including testing water quality, a close encounter with tuna (eel), discovering pests in the area, making pest traps and learning cultural stories from the area.
Stormwater reserves are regularly used for recreation and people's understanding of their importance to managing stormwater and improving water quality is limited.
Te Ara ō Wairākei reserve also has significant historic, cultural, spiritual, and ecological value to Ngā Pōtiki and it's an important habitat for an abundance of wildlife that often goes unnoticed.
Hannah Sharratt, council's water education programme specialist says this was the first stormwater education day was a success.
"We highly value the collaboration from all the partners involved in making the day such a success. Feedback from students and teachers tells us it was a huge success, so our intention is to hold more of these days in the future.'
Ngā Pōtiki chairman Colin Reeder says they value this collaboration with Tauranga City Council and the other event partners.
He says they are always looking for ways to strengthen the partnership with local Pāpāmoa schools and the wider community.
"The Te Ara ō Wairākei education day was an opportunity to share our passion and aroha for the surrounding cultural landscapes and seascapes. It was a chance to share our stories and history with enthusiastic tamariki who are curious and eager to learn. These tamariki are the guardians of tomorrow, and to see them engaged in learning about the environment, gives us great comfort and hope."
Hannah emphasises these days are a success due to the collaboration of a number of organisations.
'We are grateful for the effort our co-hosts have put into this day and the expertise they bring, so a big thank you goes to their teams.' Activity hosts at the stormwater education day were:
• Predator Free Bay of Plenty

• Discovery Through Nature

• Tree Wise Men

• Nga Potiki

• Aroha Ririnui - Independent cultural advisor and monitor
More on SunLive...