Number of Bay of Plenty stroke cases on the rise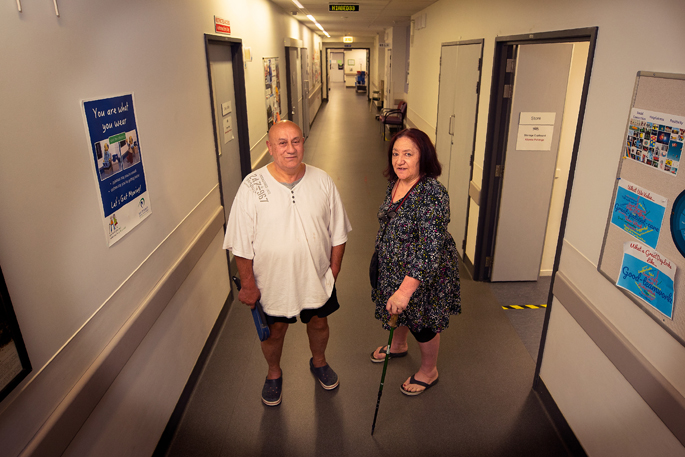 At 63, Paulette Abraham never imagined she would have a stroke, but a year on she's still feeling the effects.
On August 16, 2019, Paulette and her husband Lincoln were in Auckland when she felt dizzy and collapsed, so they called an ambulance.
It wasn't until a few hours later in the hospital that they realised she was having a stroke, says Lincoln.
He says there was some weird stuff happening where Paulette felt like she was floating or had tipped upside down.
Being from Maketu, Paulette was transferred to Tauranga Hospital, when she was well enough, and she stayed there until the end of October that year.
She is weaker on her right side, walks with a stick and her voice has changed, it is now high and raspy.
She also experiences pain in different parts of her body, including headaches and the feeling of a pin prick behind her eye.
"You're seeing someone who is pretty fit and strong and then it's just basically going down to someone who needs a lot of help and it's ongoing," says Lincoln.
Paulette says the most frustrating thing is the time it takes her to do things, doing the washing can take all day now.
"What used to be so easy, is just a bloody chore."
She also misses dragon boating which she had done since 1993 and went overseas to compete multiple times.
"I was pretty active. To just suddenly not even be able to get into the boat, it's a biggie for me. I can't even go and watch now. They said I can do it probably in another couple of years, but we'll see what happens."
Paulette is one of the increasing number of people under 65 who have had strokes.
Nationally around 9000 people a year have a stroke and the Stroke Foundation's latest research predicts that in 2020 more than 11,000 people will experience one. In the Midland region about a third of stroke patients are under 65.
Tauranga Hospital Health in Aging head of department Dr Mohana Maddula says a few years ago they wouldn't have seen many younger people having strokes but now they see quite a lot.
About 400 people in the Bay of Plenty have strokes every year and that number is projected to increase by 43 per cent by 2028, he says.
Mohana says this is mainly driven by an ageing population but the increasing trend of middle-aged people having a stroke could be due to more people living with cardiovascular risk factors, such as diabetes, high blood pressure and cholesterol.
Lifestyle factors like smoking, excessive drinking, lack of exercise, raised body mass index and poor sleep can also increase people's risk of stroke, he says.
"Those things you can do something about, so those are what we would call our modifiable risk factors. We can address them, we can treat blood pressure, diabetes, cholesterol."
Leading a healthy lifestyle and identifying and treating cardiovascular risk factors early are important for prevention, he says.
"Prevention is key, if we can prevent strokes that will be ideal."
Stroke Foundation Midland Region general manager Cee Kay says the projected numbers are quite scary, so education is important.
"We all need to find ways of getting the message out there and helping people to perhaps change behaviours or look at their lifestyle."
Mohana says starting education early at school or college and tailoring it to different groups and ages is important.
"It needs to start early because by the time people get to their middle age, they may have spent 20 or 30 years doing things like, smoking or drugs and things that could increase the risk."
If someone has a stroke it's imperative they identify their symptoms early and get to hospital quickly for treatment because this could limit the extent of brain injury and reduce the disability that people might be left with, says Mohana.
Typical symptoms are drooping of the face, an arm becoming limp or powerless, speech difficulty and more unusual symptoms can be collapsing or not being able to walk properly, he says.
If anyone suspects they are experiencing stroke symptoms or sees someone that might be they need to call 111 immediately.
More on SunLive...