Thunderstorm risk for the Bay of Plenty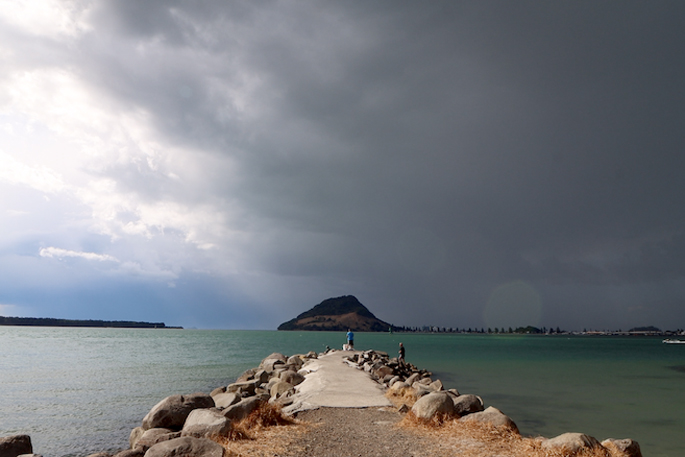 The North Island has the right weather conditions to create thunderstorms over the next couple of days due to a low pressure system stalled over the island essentially mixing warm and cool air with daytime heating, WeatherWatch is reporting.
While some large sunny and dry areas are about the atmosphere is more unstable, says WeatherWatch.
"Light winds in northern areas today and more central areas on Tuesday will help make for some big cloud build ups.
"Inland areas are most exposed but coastal thunderstorms may easily form or drift from inland into coastal zones.
"There is some risk of isolated hail and even isolated tornados."
The risk for hail or a small tornado would be underneath any of the biggest thunderstorm cells that form - most likely being categorised as a 'severe' thunderstorm by MetService.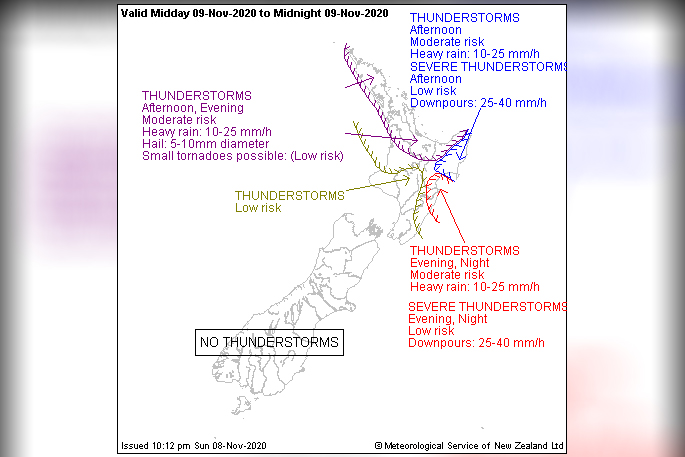 The thunderstorm risk until midnight tonight. Image: MetService.
MetService says a low will lie slow-moving over the northern North Island during the second half of Monday, while a strong wet southeast flow affects central New Zealand.
Scattered afternoon and evening heavy showers and thunderstorms are expected to affect the northern half of the North Island, with a moderate risk of thunderstorms the Bay of Plenty and other parts of the island north of Taupo, says Metservice.
"These thunderstorms will bring localised heavy rain and hail, along with a low risk of one or two small tornadoes.
"Gisborne and Hawkes Bay, bands of rain will affect these areas with possible embedded thunderstorms."
These thunderstorms are likely about Gisborne and northern Hawkes Bay in the afternoon, and about central and southern Hawkes Bay from evening, says MetService.
"These thunderstorms will boost local rainfall rates, and there is a low risk that some of the thunderstorms could be severe with localised downpours of 25-40mm/h. If severe thunderstorms do occur, they could cause surface and/or flash flooding and make driving conditions extremely hazardous."
No other thunderstorms or significant convection expected over New Zealand during this period.
More on SunLive...