Private green oasis to open for garden trail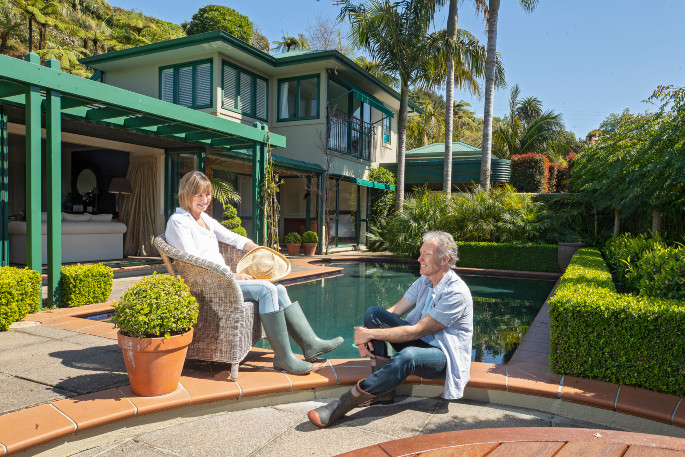 Tony and Bernice Wright's quiet green oasis 'Egret' in Maungatapu is tucked away on the edge of Fantail Reserve looking out to Rangatua Bay.
It's the first time that the secluded property has been part of the Bay of Plenty Garden & Art Festival trail.
"We enjoyed the garden for a long time ourselves and wanted to share it," says Tony.
"We know the garden is at a point where it's at a nice level of maturity and we'd always talked about being part of the garden trail," says Bernice, who is a part-time teacher.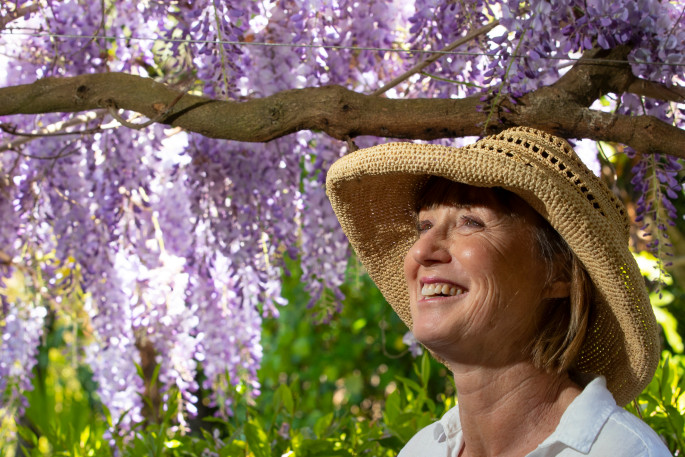 Bernice Wright under the wisteria in Anna's garden.
To prepare for the festival, Tony, who works for a pharmaceutical company, started a spreadsheet back in June to plan the tasks ahead.
"We divided the garden into rooms, so we could plan out what we needed to do."
The entrance to the garden has beautiful scenting wafting from a stunning port wine magnolia hedge.
"It's heady in the afternoon heat, just gorgeous," says Bernice.
Tony and Bernice have three daughters, all grown up. One daughter Anna is a lover of flowers and has her own garden opening out towards the driveway entrance.
"As Anna didn't look out on the pool we made a more flowery garden for her," says Bernice.
Anna's garden has roses, foxgloves, box hedging, annuals, forget-me-nots, stock and that heady port wine magnolia. Overheard a lilac wisteria may still be having its second flush during the festival in November.
"The garden has evolved over time because the house changed," says Tony.
"It used to have a rolled verandah around it and then we took it up and out."
The couple enjoyed visiting Australian landscape designer Paul Bangay's garden near Melbourne, liked his designs and adapted their garden, giving it a more structured look.
"It looks good all year around as we've put more form into it."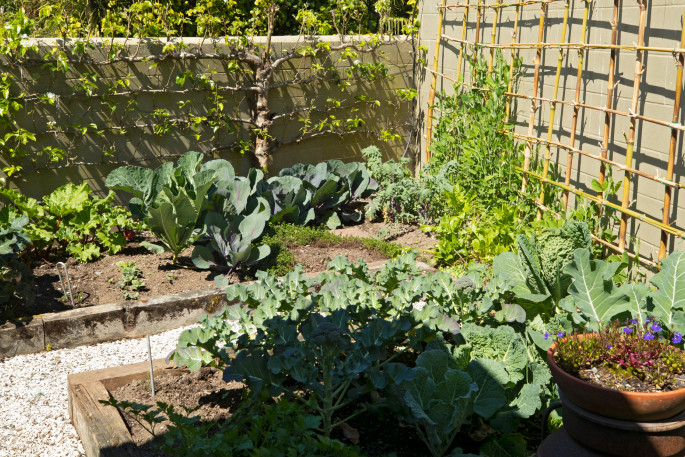 Beyond Anna's garden is a raised vegetable garden with Tony's handmade trellis covered in a mass of sweetpeas. Nearby a rosemary, standardised bay tree, sage, mint, beetroot, oregano, parsley, cabbages, chives, espalier pear to maximise the vertical space and self-seeded lobelia.
Through the lemon walk to the pool area, spiral topiaries delight. Citrus are tucked into sunny spots.
"There's a couple of limes snuck in amongst the lemons, for the gin and tonics," says Bernice.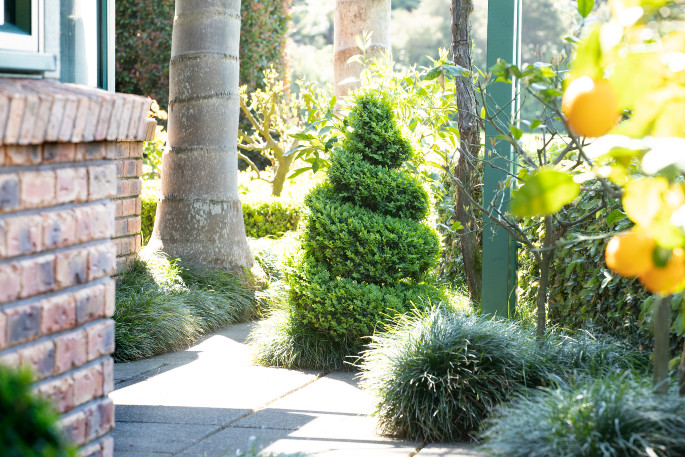 Opposite the pool is box hedging with port wine magnolia balls. Ficus growing on the back concrete block wall gives a stunning sense of space. Four china doll trees are taken down to their stump each year before growing again into their nice fluffy shapes. A pot with a twirl of buxus enhances and Queen Anne palms tower above the pool.
Flowering jasmine, a pergola and paving with sago palms and mondo grass lead on to Shirl's garden.
"My mum Shirl died six years ago. She was a great gardener and floral artist. I have pieces from her garden that she has given me over time," says Bernice.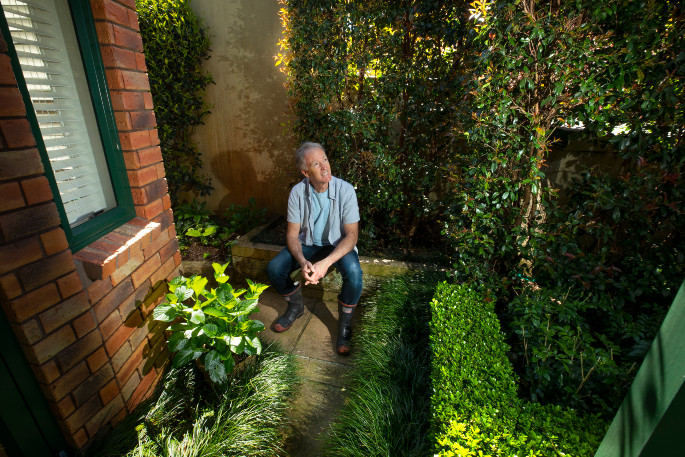 Tony Wright, enjoying the peaceful surroundings of Shirl's garden.
Planting there includes beautiful hostas, lovely white and green ivy, and maiden hair fern bordered by railway sleepers.
The house, pool and garden flow from one to the other with an original design offering a welcome sense of peace and harmony and the cleverly done mass planting creates a bigger sense of space in a small lovely garden.
The Bay of Plenty Garden & Art Festival runs from November 19-22.
Get your tickets now from the 2020 Garden & Art Trail sponsor Palmers Bethlehem, or on-line at eventfinda.co.nz or gardenandartfestival.co.nz. Tickets also available at Tauranga i-SITE, Decor Garden World, Pacifica Home and Garden Store, Te Puke Florists and Katikati Information Centre.
More on SunLive...