First time for Shane Walker at festival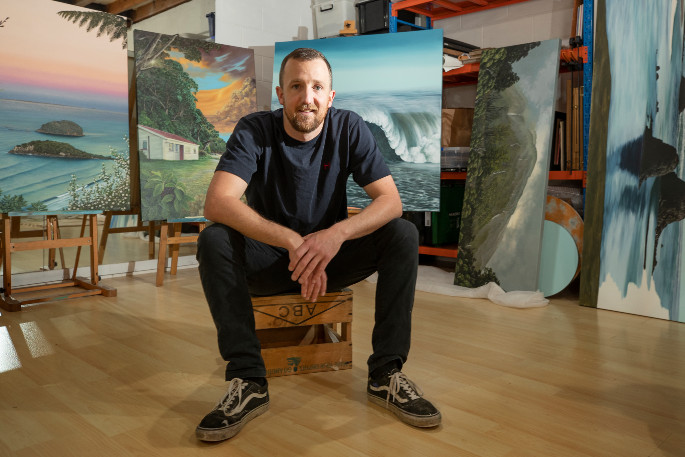 Climbing some of the walls in downtown Tauranga are stunning art works of native trees, birds and insects.
A cheeky crab with a camera is clinging from a wall in Grey St, there's a NZ native bush scene at the pop-up park in Devonport Rd, and a free flowing piece on the corner of Durham and Wharf St.
These are all the work of artist Shane Walker, who will be exhibiting at the Bay of Plenty Garden & Art Festival for the first time this year.
A section of Shane Walker's mural in Devonport Rd.
Publicly known for his large murals, Shane has secured commissions from councils, businesses and groups keen to see art around them.
"I started out in Waihi Beach painting a motel. The council saw it and were putting in a new toilet block, so that's how that started."
Shane Walker has painted a mural on the corner of Durham St and Wharf St in Tauranga.
A self-taught, multi-disciplined artist, Shane has been freelancing full-time since 2016. He paints across a wide range of styles and subjects, from mural art and portraiture, to realism and Kiwiana. His work is strongly influenced by New Zealand's idyllic scenery and world-famous beaches.
Shane also draws inspiration from classic New Zealand culture and often finds quirky ways to incorporate this in his works.
A painting of Moturiki and Motuotau Island by Shane Walker
About four or five years ago Shane was laid off from a job and decided to have a go at painting. Commission work has continued to flow in, and recently he's been working on a mural in the Talisman pub in Katikati.
"They wanted a historic scene to tie in with the theme of the township. I've got a number of old black and white photos and turning them into modern day colour to liven them up. Some are images of the Talisman from 1889."
He's including an image of an old town drunk.
"There are no existing photos of the old owner so an old town drunk is the next best thing. The mural shows a layout of the town street with a horse and carriage."
He has more requests waiting.
"I'm looking at doing a couple of murals for Waihi Beach Primary School."
Shane Walker in his studio.
Shane has painted overseas and last year took out the International Mural Fest at Sheffield, Tasmania. He has also spent time painting with Tim Wilson, one of New Zealand's most acclaimed landscape artists.
At the festival Shane will be showing his fine art and some reproductions of his work.
"I've done markets in the past so will do some sort of market set up and have some paintings as well.
"This festival is all new to me."
Shane is looking forward to meeting art lovers at Bloom in the Bay at Tauranga racecourse and is available for commissions.
The Bay of Plenty Garden & Art Festival runs from November 19-22. Access to Bloom in the Bay is free with a festival pass, or $5 entry fee at the gate. Kids under 14 get free entry.
Get your tickets now from the 2020 Garden & Art Trail sponsor Palmers Bethlehem, or online at: www.eventfinda.co.nz or: www.gardenandartfestival.co.nz
Tickets also available at Tauranga i-SITE, Decor Garden World, Pacifica Home and Garden Store, Te Puke Florists and Katikati Information Centre.
More on SunLive...