Completing the cycleway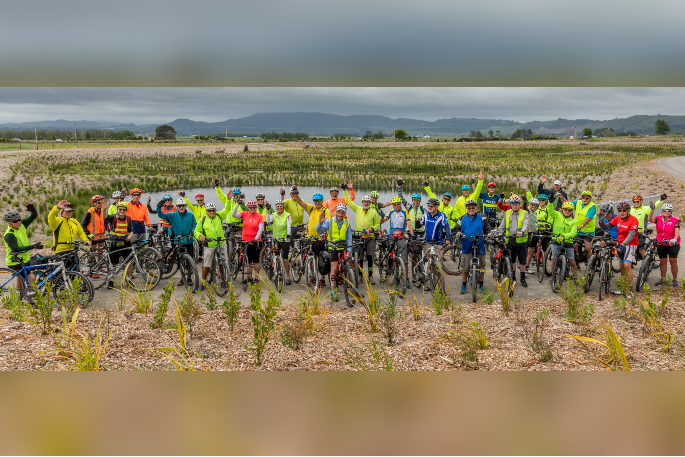 At the end of Te Okuroa Drive, the Tauranga City Council's new storm water wetlands have just been completed.
And the cyclists are celebrating.
The project includes six hectares of lakes, streams and channels encircled by an all-weather maintenance track which connects to the Kaituna toll road bridge with its built in cycleway.
Over the bridge are off road trails and quiet roads to enjoy biking to the river mouth, Maketu and Paengaroa.
Cyclists held their own 'pop-up' ceremony last Saturday to thank councillors for the important Papamoa - Paengaroa biking link.
"And tell them we are hungry for more," says one of the cyclists Chris Ingram.
"Thank you councillors but please build us more."
Chris says cycling is the 'new cool activity' and e-bikes make it easy for everyone to keep up, even with headwinds and hills, no matter if you are eight or 80.
"Papamoa is as flat as a pancake so a pedalling paradise, also having the safe and tranquil Green Belt.
"We're also thinking of the explosion of bikers since Covid and the certainty of many thousands more."
Chris says Te Tumu township, in Papamoa East, will house 25,000 people eventually and half of those people will be riding bikes for commuting or enjoyment.
"Tourism is front of mind and we know this multi day ride from Omokoroa to Paengaroa, Okere Falls, eventually to Rotorua will bring in tourist dollars for our hospitality services.
"With attractive lakes, rivers, estuaries and the ocean to pass by our 'BOP Coastal Bike Trail' will be a winner."
More on SunLive...