Travel club shows support for Age Concern Tauranga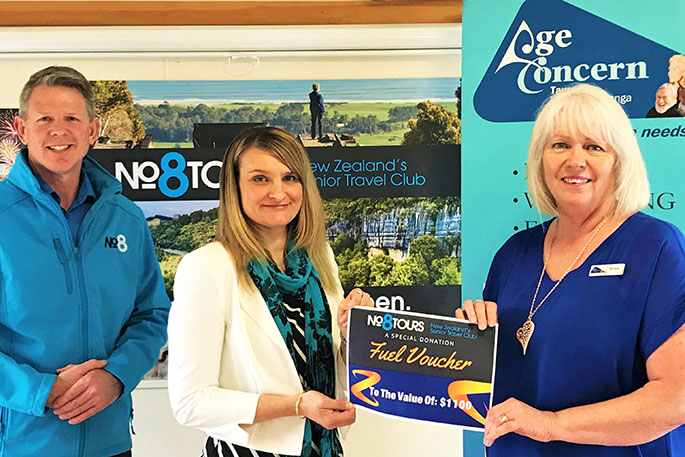 A Tauranga-based travel club for seniors has announced the launch of its sponsorship program to benefit Age Concern Tauranga.
No.8 Tours founders, Andy and Sarah Somerville, have been organising domestic and international tourism adventures for kiwis aged 65+ for over 12 years, and have recognised a need for increased support for seniors when they can no longer travel.
"We know that our clients often go home from our trips feeling reinvigorated and connected – with new friendships and shared experiences," explains Andy.
"However, there comes a point when a person can no longer travel – usually due to health issues that come with ageing. We have been looking for a way to continue to support our seniors when they reach that point. That's where our sponsorship program for Age Concern comes in."
Among other services, Age Concern Tauranga provides the local senior community with a companion program. This program is based around a network of volunteers who visit the elderly in the community, giving them much-need connection and friendship.
Upon contacting Age Concern Tauranga's General Manager, Tanya Smith, it was highlighted to the Somerville's that participating volunteers often pay for costs related to their involvement in the companion program out of their own pockets - and fuel costs in particular are often a barrier for people interested in becoming Age Concern volunteers.
No.8 Tours has agreed to donate $5 per booking per person from all day trips, shows or multi-day tours to Age Concern Tauranga in the form of Z fuel vouchers.
"We are delighted to be the recipient of No.8 Tours' generosity," says Tanya.
"This gift helps us to acknowledge and show appreciation to our volunteers who regularly go above and beyond the call of duty for Age Concern. Our long term goal is to grow our volunteer base, so we can service more seniors in the Bay, and we know that reducing the financial cost for our volunteers will in some part be a great help in achieving this!"
Andy says news of the program has been very well-received amongst No.8 Tours clients.
"This year has been tough on many of the elderly in our community, with the financial strain resulting from COVID-19 and the increased feelings of isolation that have come with the pandemic, our clients know that better than anyone."
"More Age Concern volunteers means more seniors are visited - and hopefully this will cause a reduction in the depression and anxiety that can come with being vulnerable and socially distanced."
More on SunLive...