Average asking house price at 13 year record high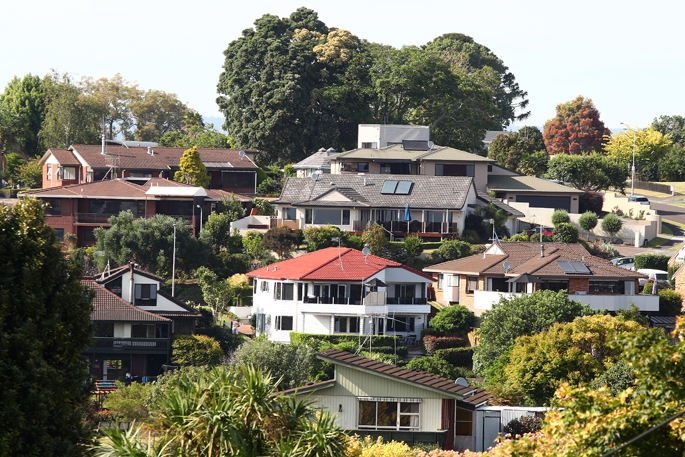 A 13 year record average asking price is being recorded in six North Island regions, with Auckland prices remaining above $1 million.
Vendor expectations remained high in October with real-time data from realestate.co.nz showing all-time average asking price highs in six regions, including the Bay of Plenty.
Year on year, the national average asking price also increased by 12.4 per cent to $772,288.
Topping the leader board in October was Auckland where the average asking price was $1,015,383. Auckland also saw the biggest increase (36.8 per cent) in new listings coming onto the market of all regions.
"We have seen a lot of international interest in Auckland recently and this could be pushing up prices and encouraging property owners to sell," says Vanessa Taylor, spokesperson for realestate.co.nz.
Many regions saw an increase in new listings coming onto the market last month.
This suggests that vendors around the country were busy in October.
However, compared to the same month in 2019 total stock was down nationally by 18.7 per cent in October.
Vanessa says low stock levels are a long-term trend in New Zealand, but new listings up year on year in 9 of 19 regions will be welcome news for buyers.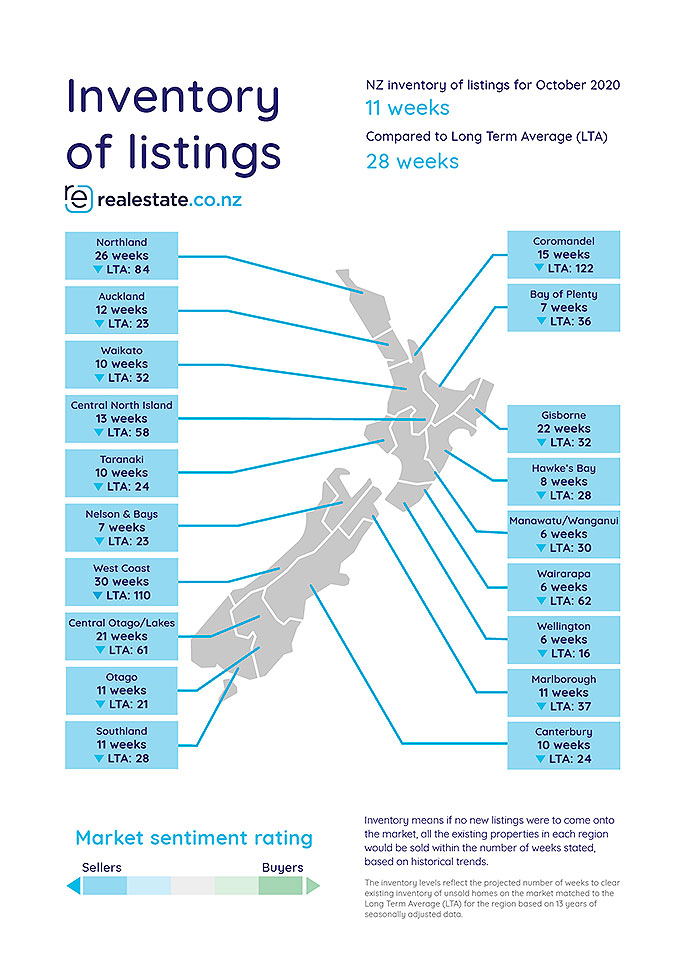 Many sellers in the North Island had cause for celebration last month with real-time data from realestate.co.nz showing all-time average asking price highs in six regions.
Auckland, Waikato, Bay of Plenty, Hawke's Bay, Wairarapa, and Manawatu/Whanganui all saw their average asking prices hit 13-year record highs in October.
Vanessa says that average asking prices were up year-on-year in all but one region in October.
She says record highs are always good news for those in the market to sell:
"With stock down nationally and in every region, these prices indicate that demand is outstripping supply."
13-YEAR RECORD AVERAGE ASKING PRICE HIGHS

Region

Average Asking Price October 2020

Year on Year increase

Auckland

$1,015,383

8.4%

Waikato

$681,779

9.7%

Bay of Plenty

$778,115

11.1%

Hawke's Bay

$650,987

14.8%

Wairarapa

$610,943

6.9%

Manawatu/Whanganui

$520,495

20.4%
The long-term decline in stock continued in October with only 18,141 total homes available for sale in New Zealand – an 18.7 per cent decrease on the same month last year.
Hitting record stock lows last month were Northland (down 36.0 per cent to 857 homes), Waikato (down 24.9 per cent to 1220 homes), Bay of Plenty (down 30.1 per cent to 979 homes), Southland (down 10.7 per cent to 292 homes), Coromandel (down 37 per cent to 295 homes), and Marlborough (down 40.5 per cent to 160 homes).
Vanessa says New Zealand's housing shortage is well documented and that, looking back at 13-years of data, it shows no signs of letting up.
She says it will be interesting to see the impact of Kiwis returning home on stock levels.
"As COVID-19 spreads, record numbers of Kiwis are returning to and staying in New Zealand. I think we can expect this to have an impact on the total number of homes available for sale around the country."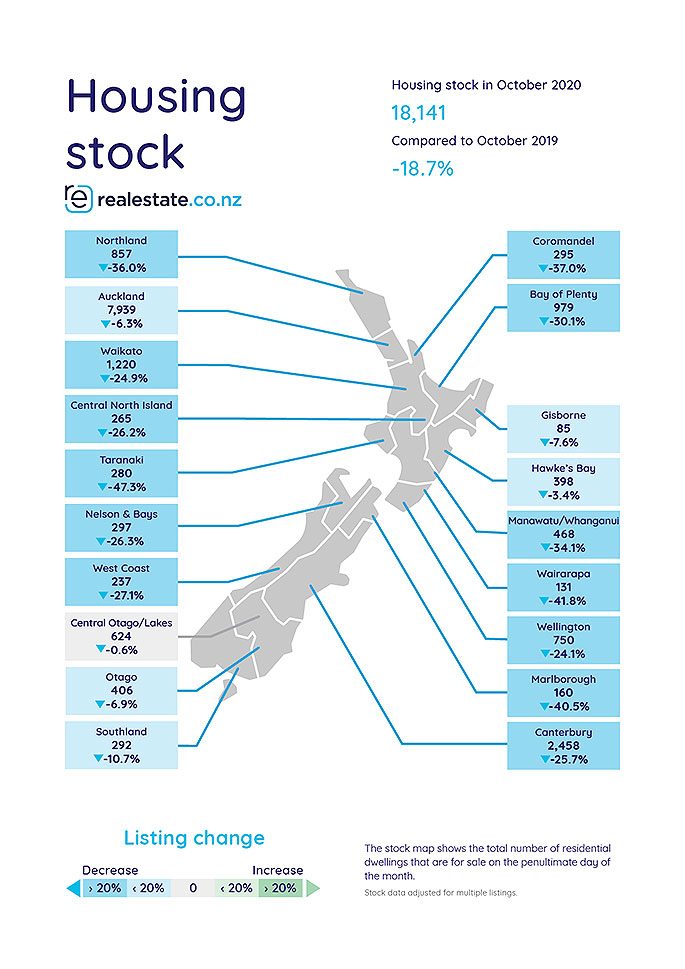 The increase in international traffic to realestate.co.nz since April, Vanessa says, suggests that people are searching for property before arriving in the country.
"Anecdotally, real estate agents nationwide are telling us that many Kiwis are even buying property sight-unseen from overseas or in quarantine."
Despite the downward trend in total stock, many vendors and agents were busy last month with new listings coming onto the market nationally in October 2020 up 13.8 per cent (11,649 new listings) on the same time last year.
Auckland, West Coast, Otago, and Gisborne saw the most activity with new listings increasing by 36.8 per cent, 22.4 per cent, 18.9 per cent and 18.8 per cent respectively.
Vanessa says those looking for property will be buoyed by the fact that they had more listings to choose from in October 2020 than they did in the same month last year.
She says if the increase in new listings continues, this could impact asking prices in these regions.
"Typically, we see an increase in Kiwis looking to sell during the summer months with a drop off over the busy Christmas season.
"However, the impact of the nationwide lockdown earlier this year and the changes that many Kiwis are experiencing as a result of COVID-19 mean it is anyone's guess when new listings will peak this season."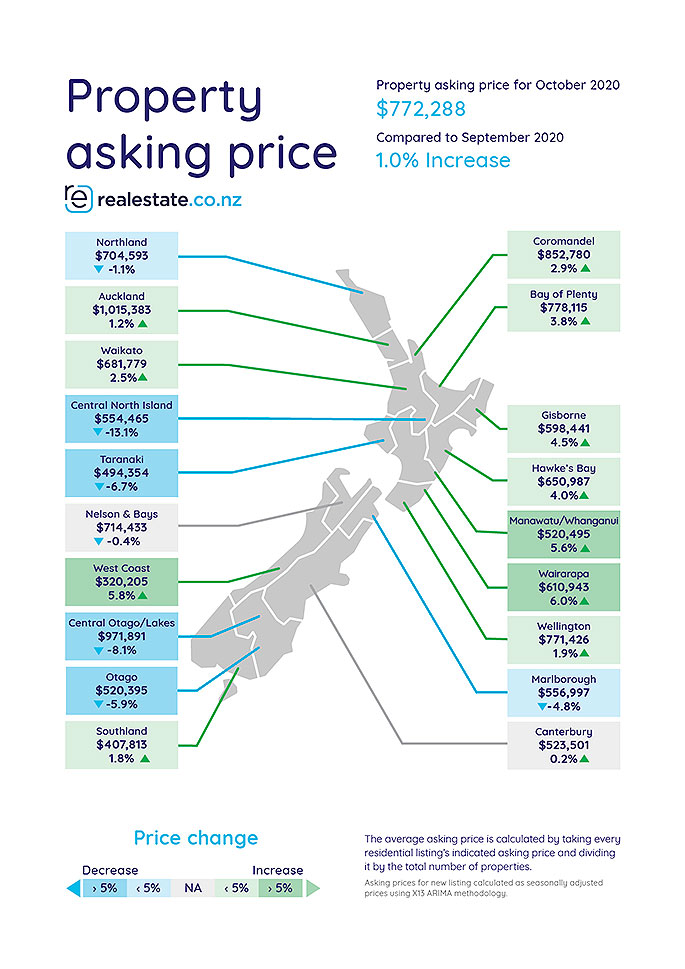 More on SunLive...