Covid update here and around the globe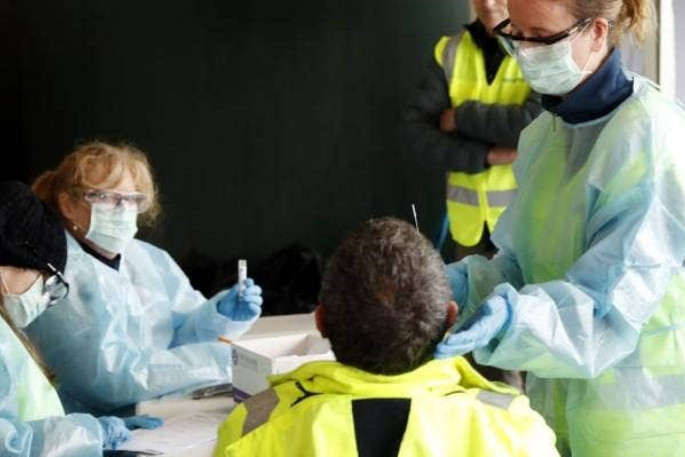 Genome sequencing of infected crew onboard the Sofrana Surville in Australia suggests the country's maritime cluster is linked to the ship, as health officials suspected.
"There's one mutation off," says Health Minister Chris Hipkins. "Which would suggest that that is the source of infection for this most recent group of workers that we have been dealing with."
Hipkins said it was "highly unlikely" there was another line of infection in the community.
On Friday, one new Covid-19 case - a fisherman from the Russian and Ukrainian group - was identified in managed isolation. This person was a close contact of a previously reported case in the group, and has been staying exclusively at Christchurch's Sudima Hotel.
The Government has ordered Air New Zealand to put a freeze on new international bookings ahead of the Christmas period as capacity in managed facilities nears full. Figures from the Ministry of Business, Innovation and Employment (MBIE) show projected occupancy across the 32 managed isolation facilities in 14 days' time is 6062, with just 3 per cent vacancy.
As of November 3, all travellers to New Zealand - including returning citizens and permanent residents - are required to secure a voucher for managed isolation. They will not be able to board the plane without presenting the voucher.
A passenger on an Air NZ flight from Hong Kong to Auckland this week was shocked to find economy passengers crammed together on a near-empty flight. A spokesperson for the airline said while there are no requirements for distancing on international services, they try to provide additional space for passengers where possible.
Meanwhile, inventors around the world are working on suitable and safe mask solutions. Engineers at the Massachusetts Institute of Technology (MIT) have invented a battery-powered mask with copper mesh that warms to 90 degrees Celsius.
Global toll
Over 45.3 million infections have been recorded around the world and 1.18m people have died, according to Johns Hopkins University.
The US continues to lead the pack with the most infections and deaths.
Parts of Europe are returning to strict lockdown conditions as a result of case surges. France announced a full nationwide lockdown for the second time this year, and Germany has imposed a partial four-week lockdown.
The European region - including Russia, Turkey, Israel and Central Asia - account for almost half of the 2.8m new cases reported around the world last week, the World Health Organisation (WHO) says.
In Australia, Western Australia is reopening its borders to all states and territories from November 14.
The state has been closed off to the rest of the country for the last six months. Premier Mark McGowan says it is the right time to introduce a new "controlled interstate border".
What should I do?
Anyone who wants to get tested can find their local testing centres by visiting the Ministry of Health website.
New Zealand, including Auckland, is at Covid-19 alert level 1.

Face masks are not required at alert level 1, but their use is still encouraged.
If you are sick, call your GP before you visit, or call Healthline on 0800 358 5453.
To avoid contracting and spreading the virus, wash your hands properly, cough and sneeze into the crook of your elbow and throw tissues away immediately.
Reach out. find support from people who care, connect with your community or help a neighbour in need.
More on SunLive...