Fright night at Memorial Park Railway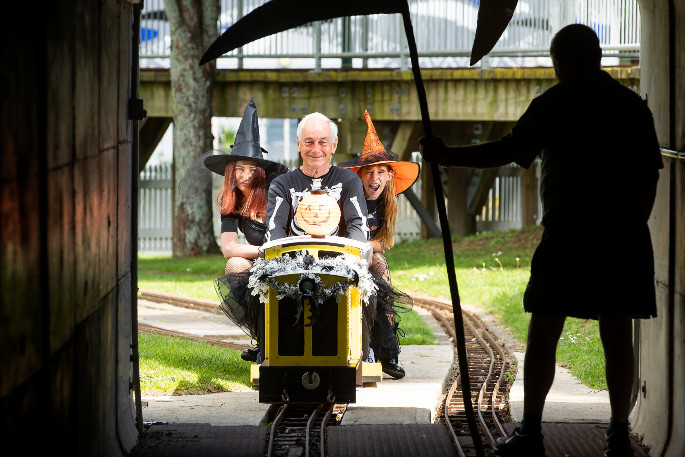 Calling all ghouls, goblins and witches - there's a chance to ride the ghost train in Tauranga on Halloween.
The Memorial Park Railway's Halloween Fright Run is an opportunity for people to get dressed up and ride the train at night, says club president Jason Flannery.
"With night runs people get to see the park from a different point of view because normally it's always during the day."
The train drivers will be dressed to scare and club members have been busy decorating the park with tombstones, coffins and bones. Local steam punk enthusiasts will also make a cameo appearance from 6pm to 7pm.
Rides are $2 each and Jason says they're not in it to make a profit. Money from tickets goes back into maintaining the tracks and trains.
Last Halloween was the first time they held the event and it was very popular with more than 1000 people riding the rails.
"Most of the people actually came dressed up last year. The response was incredible."
Everyone from toddlers to retirees can enjoy a ride and Jason says some of the grandparents these days have ridden the train around 40 years ago as children.
"You have every generation coming down. It's pretty good, it's fun for the whole family."
For those who are more interested in the other things Tauranga Model Marine and Engineering Club do they are having open days on November 7 and 8 where members works in progress will be on display.
"It's an opportunity for the public to look at a lot of goodies that are in people's garages that you don't typically get to see, some are still being built.
"There's a lot of engines and bits and bobs that are in people's sheds."
The Halloween Fright Run is at Memorial Park from 6pm to 9pm on Saturday, October 31.
More on SunLive...