Anti-social behavior may see alleyway closed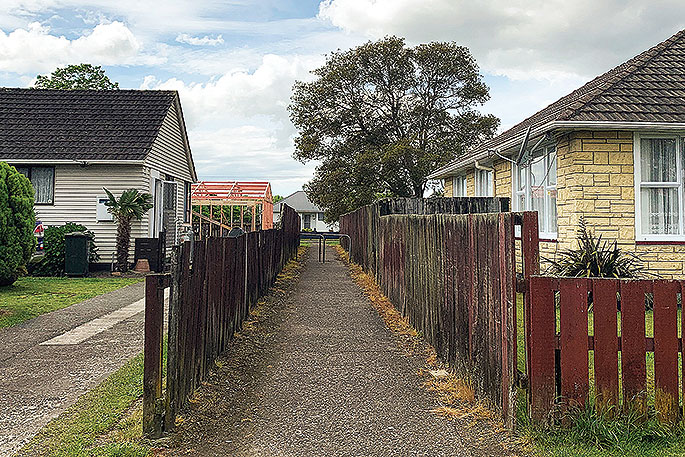 A Kawerau alleyway may soon be closed after neighbours complained of motorbikes, people urinating, and rubbish in the alley.
Neighbours have been complaining for years of anti-social behaviour in the alleyway, which runs between Fenton and Pollen streets, and the community now has one month to submit on the planned closure.
If the wider community supports the alleyway being closed, the land will then be incorporated into neighbour's properties.
However, the land will remain the property of Kawerau District Council, which will allow the alleyway to be reopened in the future if the community wishes it.
Councillors discussed the matter at a council meeting this week.
Councillor David Sparks says issuing a licence to occupy to neighbours seemed "the logical way to go".
"I don't see the need for a more formal process, and it does give the council an option of reopening the alleyway if needed."
Deputy Mayor Faylene Tunui says the alleyway has always been an issue and the problems appeared to be caused by a few people.
Mayor Malcom Campbell says problems with the alleyway have been "going on forever" and the neighbours "have had it".
"My thoughts go to those people who have been there for years.
"The shame of it is the non-exacerbators will now have to walk some considerable distance, but that's just the nature of the beast unfortunately."
Finance and corporate services manager Peter Christophers says in the past, the council has been asked to close alleyways but the wider community had preferred to keep them open and so they had.
Kawerau Police did not indicate whether it supports the closure of the alleyway but did advise there had been no reported occurrences in the area in the past six months.
Signs will now be erected at either end of the alleyway advising of the proposal to close and residents will have one month to have their say before the final decision is made.

More on SunLive...