Surfing on concrete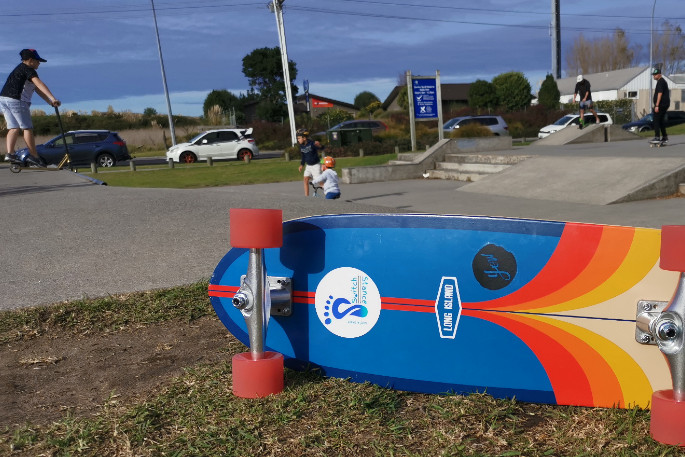 A surf and skate demo day with a difference is being held this afternoon in Papamoa.
Shelley Jones from Switch Stance Surf and Skate is running the inaugural demo day as a way to introduce people to surfskates and skateboards while also helping raise funds for Child Cancer Foundation NZ.
"I chose the Child Cancer Foundation because Gavin Bisman's five-year-old son Oscar Bisman has been going through cancer treatment since the beginning of the year," says Shelley.
Oscar, who lives in Papamoa with his family, was diagnosed with acute myeloid leukaemia in January and has been undergoing treatment at Auckland's Starship Hospital.
Gavin set up a GiveALittle page aimed at "supporting other children and their families fighting child cancer" after the initial GiveALittle pages 'Oscar's Fight Against the Baddies' set up by family friend Judy Rooney raised $67,906 from over 700 generous donors with the hashtag #fightthebaddies being shared online.
Gavin's new GiveALittle page 'Fight the Baddies', run by F.T.B Foundation by Oscar Bisman & Family, and Oscar's Facebook page are both helping support other children and their families fighting cancer and have raised over $4000 so far.
On Friday, art prints by Greg Straight were won in a fundraising raffle by Shelley Milham and Virginia Sullivan. All funds raised from the art raffle donations are being used to gift more art supplies and educational toys so all the children on Ward 27 at Starship can enjoy them in the 'Playroom' which is the only space that children on the oncology ward at Starship have for play time out of their own rooms.
Today, people are invited to come along to the inaugural Switch Stance Surf and Skate demo day from 1pm – 5pm at the Gordan Spratt Skatepark on Parton Rd.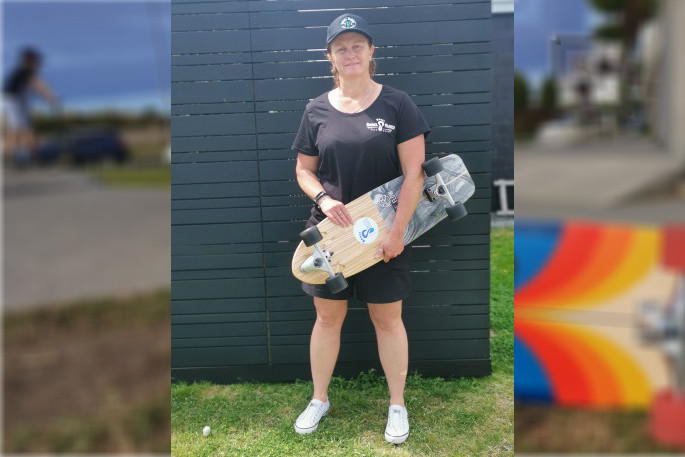 Shelley Jones from Switch Stance Surf and Skate
"All ages are welcome," says Shelley. "We will have surf skates that have a special kind of truck designed to make you feel like your surfing, but on concrete. It feels like you're surfing on the land."
Shelley has been surfing her whole life and has helped people into buying the right surf board that suits them. She's often at the local markets offering advice to those who have never tried skateboarding before and helping people try different kinds of skateboards.
"It's a nice option to have these surfskate boards available when there's no surf."
She advises that people bring their own helmets and protective gear today.
"We'll have skateboards and surfskates available, and we'll have some pads and helmets for real beginners who don't have gear."
A gold coin donation will give participants a raffle ticket with chances of winning spot prizes on the day. Proceeds are all going to the Child Cancer Foundation NZ.
"It's a long weekend so come join us," says Shelley.
For more information on the inaugural demo day click here. Shelley Jones can be contacted on 027 455 3959.
More on SunLive...